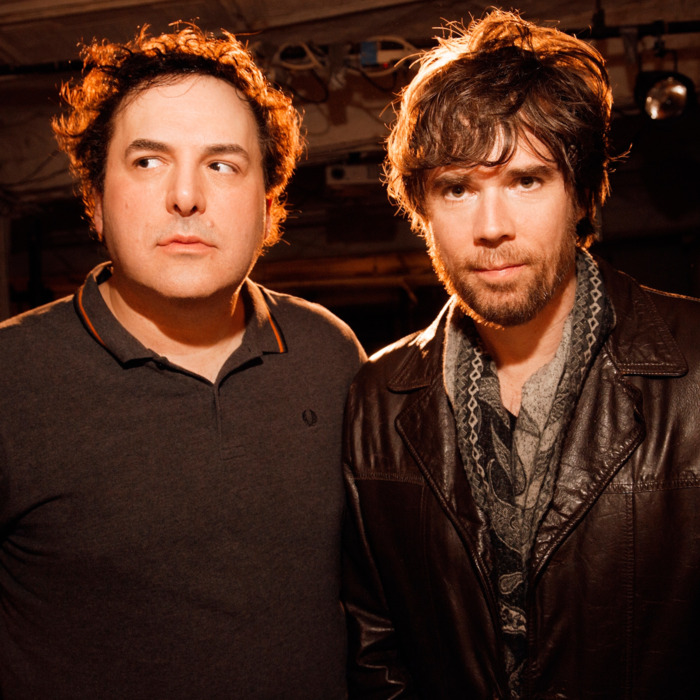 Tom Scharpling and Jon Wurster.
Photo: Mindy Tucker
On May 12, the Numero Group label released the massive The Best of the Best Show, a collection of WFMU comedy Tom Scharpling and Jon Wurster's prank calls. At 16 CDs and with more than 20 hours of material, one could probably add "All" to the collection's title and get away with it. Even at this size, the collection is something close to essential for fans of the duo's deadpan, often surreal comedy. "Darren and the Greasy Funk," which you can listen to below, is a prime example of what these guys do, and along with the track, we've got Scharpling and Wurster's own recollection of how the call came about. Enjoy!
Tom Scharpling: Hi, Jon. The impetus for this call started with an Allen Toussaint show you went to in North Carolina, right?
Jon Wurster: Yes. In August of 2007, I went to see New Orleans jazz legend Allen Toussaint perform at the North Carolina Museum of Art in Raleigh. The way the stage was set up, there was a big, empty space between the band and the audience. About halfway into the show, a middle-aged woman got up and slowly made her way to the front of the stage. She started dancing.
Scharpling: I wasn't there, but can I guess what she looked like?
Wurster: Okay, guess.
Scharpling: She was upper-middle-class. And this was a chance for her to get out and just cut loose and have fun. And I'm betting that her dancing wasn't very good. 
Wurster: You pretty much nailed it. And as I watched, I was both embarrassed for her and envious of her. I would never in a million years be caught dead jazz-bopping around like she was, and yet I envied her complete lack of self-consciousness to be able to do it in front of 2,000 people. 
Scharpling: Yeah, one of the things that we have in common is a complete lack of ability to be that carefree. I sometimes wish I could just do things like that, but there's some barrier that stops me. Maybe that's why we're so at home on the radio, talking about crazy things without having to be seen doing them.
Wurster: Eventually, a middle-aged man made HIS way down and joined the woman. It was obvious they didn't know one another.
Scharpling: But the music brought them together! They were united in funk.
Wurster: I remember calling you as I made my way back home and telling you what I had just witnessed. We were already writing the call before my half-hour journey was over. 
Scharpling: And Darren from Work was the perfect character for us to take what you had just seen and have it happen to one of our characters. He's a pretty blank slate in so many ways. We can put Darren in virtually any situation and it works.
Wurster: The way Darren asks Tom, "You see me dancing?" makes it clear that Darren assumes Tom enjoyed him shaking his moneymaker. How could he have not?
Scharpling: Yeah, this call features some of our more disturbing phrases. "Shake my moneymaker," "groove thang," and what is maybe the worst phrase of all, "greasy funk." The way you sound so delusionally happy with your dancing just kills me.
Wurster: I have no recollection of whether or not the hammering of "greasy funk" was something we planned or if I could tell after saying it the first time that it was colossally annoying to you. 
Scharpling: Those are my favorite moments. The things that grow organically out of doing the calls live. That's the stuff that we'd miss out on if we were prerecording the calls. It's like you decide to start saying "greeeeasy funk" because you know it's making me sick and you're also hoping to make me lose it. And you managed to slip in a mention of a Prilosec commercial that drove us both nuts at the time.
Wurster: I don't even know if I was making the correct reference here. I think I was talking about that commercial where the middle-aged men have a rock band, one of those commercials for erectile dysfunction … which is something i DEFINITELY don't have.
Scharpling: Yeah, there are a lot of those pills on the market.
Wurster: You're putting it mildly. Of course there's Viagra, but don't forget Cialis, Levitra, Stendra.
Scharpling: Okay, cool. 
Wurster: Staxyn, Edex, Tadalaifil, Caverject.
Scharpling: Great. Thanks.
Wurster: Yohimbine, Phentolamine, Vardenafil.
Scharpling: So should we talk about the call some more?
Wurster: Oh, right. Sure. One of the things I love about writing these calls is that they serve as a kind of "annoyance release valve." Whatever is bugging us ends up in a call. 
Scharpling: And just like with so many of our calls, zero growth has been achieved by the caller. Darren thinks he's more right than he was before calling in. Ignorance continues to be bliss. Which is another thing that I might be secretly jealous of when it comes to our characters.
Wurster: And who's the victor here? The man and woman who had a wonderful time dancing at that Allen Toussaint show or the two guys who are still bothered by it eight years later? 
Scharpling: You know what? It might be time for us to finally go to see Toussaint this year. He's playing a Rhythm & Blues Cruise this October. Then we can be the ones shaking our moneymakers.
Wurster: Let's go shopping for khaki shorts and polo shirts next week.