Star Wars Fan Compiled All of the Force Awakens Rumors Into an Epic Plot Synopsis
Impressive. Most impressive.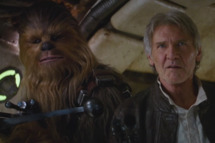 Get your geek on: For fan site MakingStarWars.net, user DarthLightlyBruise has compiled all of the Force Awakens rumors from the internet and amalgamated them into one long, cohesive plot synopsis. Of course, this could be 100 percent wrong, but as far as pure speculation and fan fiction go, it's pretty fun. You can read it here, and it should go without saying that the force of potential spoilers is strong with this one.