Jay Z Seriously Pissed Off the Queen of Performance Art [Updated]
Marina Abramovic says Jay Z "completely used me."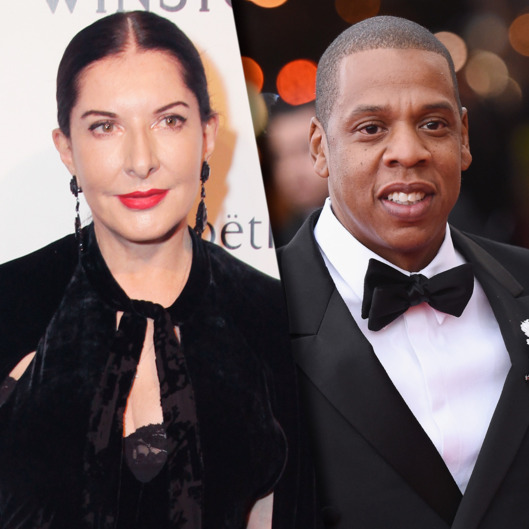 Two years ago, Jay Z invaded the art world for his "Picasso Baby" video, taking over New York City's Pace Gallery with a bunch of his famous friends. But he appears to have now made a frenemy out of one of those people, because Marina Abramovic is "very pissed" at him. The legendary performance artist, whose 2010 MoMA exhibition The Artist Is Present his video adapts (she appears in it going forehead-to-forehead with the rapper), is speaking out to Spike magazine about what happened once the cameras stopped rolling. She claims she gave him permission to use her work with the caveat that he would help fund her institute. Turns out Hov allegedly never paid up:
The day before, he came to my office and I gave him an entire power point presentation and said: okay, you can help me, because I really need help to build this thing. Then he just completely used me. And that wasn't fair.

And in the end it was only a one-way transaction. I will never do it again, that I can say. Never. I was really naive in this kind of world. It was really new to me, and I had no idea that this would happen. It's so cruel, it's incredible. I will stay away from it for sure.
There goes another Tidal subscriber.
Update: According to the video's producer, Jay Z did indeed make a donation to Abramovic's institute, and he's got the receipt to prove it. Kids, always keep your receipts.
Update No. 2: The Marina Abramovic Institute has issued a statement to the New York Times, apologizing to both Jay Z and Marina for not informing her of his donation: "Marina Abramović was not informed of Shawn 'Jay Z' Carter's donation from two years ago when she recently did an interview with Spike magazine in Brazil. We are sincerely sorry to both Marina Abramović and Shawn 'Jay Z' Carter for this, and since then we have taken to appropriate actions to reconcile this matter."