Lisa Kudrow Saw the Future of Reality TV All the Way Back in 2005
"I really was thinking, <i>Some people actually won&rsquo;t survive this. </i>And then, sure enough ... "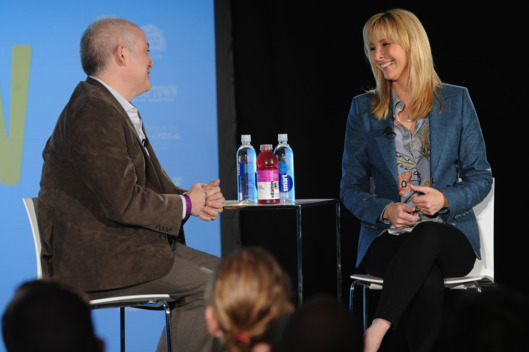 The great Lisa Kudrow stopped by the second annual Vulture Festival today to talk with New York TV critic Matt Zoller Seitz about The Comeback, her prescient HBO mockumentary series whose first season debuted in 2005, back in the pre-Duggar days when reality TV was only a mildly objectionable blight on our culture and not yet the full-blown public-safety risk that it is today. How did she know it would get so bad? Kudrow explains:
"I was just shocked and horrified by reality TV… [In 2005, when The Comeback premiered] there had only been, like, Survivor. Amazing Race was in its second season only and there were no housewives — they had The Osbournes and Anna Nicole Smith, and I thought, This can't end well. And unfortunately, it's true for some of those people. I really was thinking, Some people actually won't survive this. And then, sure enough, there were suicides in the years after 2005. I just remember that it was really hard on Friends for the six of us to go through that. And then for these people, the reason it's hard is because [they] think, Oh, maybe I'll like myself a little better if I'm getting positive feedback, which is kind of common … A lot of people just wanted instant fame and would do whatever — vomit and cry on national television, which I had never seen before. I thought, That's the end of the world, the end of civilization. I think it was the end of a certain aspect of our society"
 Also, will there ever be a proper Friends reunion? Kudrow, channeling Aunt Sassy, says she doubts it:
"The six of us can't even meet for dinner. We're trying, but we don't all live in the same state. We don't have the same work schedule anymore. We are constantly trying to — 'Wait, so when are you in town?' It's crazy. But it's sweet that we're trying, isn't it? And then also I think we would really want Marta [Kauffman] and David [Crane]. If something would happen, they would be the ones to write it, and let's face it — they're busy. So I don't know how or when [it would happen]. And then also, what's that going to be about? Menopause and midlife crisis? I'm not eager to see that."