Take the Mad Men Superfan Quiz
<span>Test how well you know your favorite show before it all comes to an end Sunday night.</span>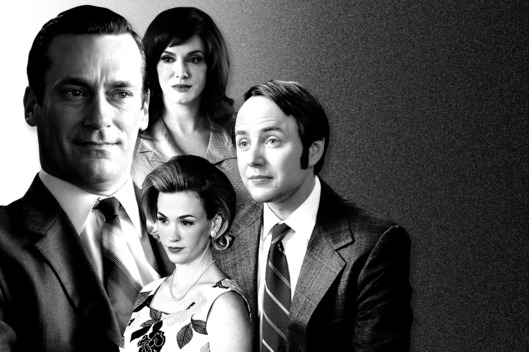 There are the Mad Men moments we'll never forget — "Zou Bisou Bisou," Bert Cooper's dancing farewell, Sally walking in on Don and Sylvia — but how well do you know the details, the minor players, and the off-handed one-liners? Test how well you know your favorite show before it all comes to an end Sunday night.
How Well Do You Know Mad Men?
What year does Mad Men start?
Don's mistress Midge tells him her "rules." What are those rules?
Don impulsively gets Sally a dog for her birthday. What does Sally name it?
Helen Bishop confronts Betty about her inappropriate relationship with Glen. Then what happens?
Don and Roger have an indulgent lunch in "Red in the Face," and Don makes Roger run up so many flights of stairs that Roger barfs. What was their vomit-inducing meal?
Don has a flashback in "The Hobo Code," in which he remembers a hobo leaving a mark at Archibald Whitman's house that means "a dishonest man lives here." What did that mark look like?
Which of these is NOT an episode title?
In "Nixon vs. Kennedy," the Sterling Cooper employees perform a play that Paul has written. What is that play called?
Why did Joan and Paul break up?
Betty's friend and neighbor Francine examines her telephone bill and catches her husband Carlton cheating on her. Betty's incredulous, and suggests Francine might be jumping to conclusions. What does Betty say could be happening instead?
Peggy comes up with the slogan "What did you bring me, Daddy?" for which client?
Who calls Peggy "ballerina"?
Which of the following Mad Men cast members have been named People's "Sexiest Man Alive"?
Jimmy Barrett shills for what brand?
Don and Bobbi sneak away from a dinner for kinky foreplay in a restaurant bathroom. Which restaurant?
What church does Peggy attend with her family?
Every woman is either a "Jackie" or a "Marilyn," according to a brainstorming meeting for what bra company?
Peggy's not a Jackie or a Marilyn, though. She's compared to Gertrude Stein and who else?
What Peter, Paul and Mary song does Father Gill play at the end of "A Night to Remember"?
Which of the following does NOT happen in "Six Month Leave"?
Who gives Peggy a more modern hairstyle?
Where is Don working when Anna Draper tracks him down?
Why is Betty so sad?
Don mails Anna Draper a book in the season two premiere. They discuss it in the penultimate episode of the season, and it's the name of the season finale. What is it?
Why do Don and Sal give the flight attendant fake names in "Out of Town"?
Which of the following people was NOT one of Don's secretaries?
Finish this line: "I'm Peggy Olson. _____ "
Which of these is FALSE? (Or at least not proven.)
"Bye, bye, sugar!" _____
What's Baby Gene's middle name?
Who's driving the lawn mower that cuts off Guy's foot?
When Conrad Hilton says he wants _____, you give him _____.
Bob Benson : Spanish :: Betty :
Joan : Greg :: Margaret :
Joan : Holloway ::
How does Pete describe the Daily News?
It's New Year's Eve 1964, counting down to midnight. Where's Don?
What's the deal with Greg?
"Darling, I've been an ass. Kisses, Lane." For whom was that note intended?
Which of the following is true:
Sally gets in trouble for _______ while ______, and for ________ while _______.
Danny Siegel : Jonathan Levinson :: Mathis :
Have Don and Joan ever kissed?
Which episode takes place on Peggy's birthday?
How many times have Peggy and Stan kissed?
Whom does Harry identify as his "key demographic"?
How many Twin Peaks regulars have appeared on Mad Men?
Where was that guy caught with chewing gum?
What movie is Peggy watching when she gives a stranger a hand job?
What does orange sherbet taste like?
Megan's parents are ___ and ____.
What show does Paul Kinsey write a spec script for?
Joan's mother raised her to:
Who is Sally with when she gets her first period?
Which of the following is NOT a season finale episode:
Don and Megan live on the ____ floor, and _____ live ______.
What is Project K?
What prompts Don's first visit to the set of Megan's TV show?
In "To Have and to Hold," Ted orders a made-up cocktail invented for an episode of 30 Rock. What is it?
What do "The Grown-Ups" and "Man With a Plan" have in common?
Whose funeral have we NOT seen?
Ted has a theory that every product can be compared to what television show?
According to Betty, what's Diplomacy Club?
The SC&P partners call an emergency meeting over what holiday in "In Care Of"?
"This isn't a timepiece. _____"
What does Ginsberg suggest is on Peggy's calendar for Valentine's Day?
Don sits in the SC&P offices waiting for Roger in "Field Trip." Who's on the cover of the Time magazine he's reading?
Why does Ginsberg want a new couch?
What is Lou Avery's cartoon called?
Pete's father-in-law is named ____ and he works for _____; Ken's father-in-law is named ____ and he works for _______.