Rapper Chinx Shot and Killed in NYC
Chinx was a member of French Montana's Coke Boys.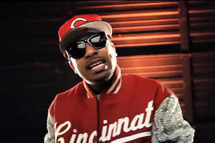 Thirty-one-year-old rapper Chinx, formerly known as Chinx Drugz (his given name was Lionel Pickens), was shot and killed while driving in Queens at around 4 a.m. on Sunday. His friend, identified as Antar Aldiadi, was also wounded in the shooting. "A car pulled up along side them, the police said, and opened fire before speeding off. Both men were hit multiple times," reports the New York Times. "The vehicle pulled to a stop in front of a Dunkin' Donuts at 84th Drive and called 911, the police said." A frequent collaborator of Meek Mill and French Montana, Chinx had been working on his debut solo album, which was slated for release later this year.