Rob Pruitt Looks Back at His Career, From Cocaine Buffet to Glittery Pandas
To celebrate his show at the Brant Foundation, the artist shares insight into his more memorable and controversial works.
On May 10, collector Peter Brant hosted hundreds of art-world revelers at his Greenwich estate — he set up a big tent out on the polo field for them, gave them lots to drink, and fed them lots of lamb — to celebrate the opening of a show of work by artist Rob Pruitt. Brant hosts this field trip twice a year for this teeming mass of dealers, artists, collectors, journalists, critics, fashion types, and scenesters — oh, and a smattering of celebrities, too. Pruitt's dealer, Gavin Brown, hired party buses equipped with stripper poles, loaded them up with Prosecco, and unleashed two full loads of gloriously weird downtown art kids upon the tony countryside gala.
The show also included one of Pruitt's "flea markets," with the proceeds benefiting Bard College. This time the flea market was just full of stuff culled from the Brant family's bespoke closets, including lots of toys, some kitchen appliances, and, much to the near-frenzy of some of the guests, his wife Stephanie Seymour's gently used couture outfits — not to mention some flashy name-brand numbers once worn by his sons Harry and Peter Jr.
The soft-spoken Pruitt is about to turn 50 — his actual birthday is next weekend — and in some ways, the show was an opportunity for him to look back over his career as a painter, sculptor, and prankster-ish performance artist. (His father's ashes are there, too, in an urn Pruitt designed for him with a Corvette on top.) Here's what Rob Pruitt has to say about some of his more memorable works.
Painting for Teenage Boys (Miller Six Pack)
"The first thing that comes to mind on this particular painting from the series 'Artworks for Teenage Boys' is how witty we thought we were to use beer math to construct the paintings and sculptures — everything existed in 6s and 24s [six-packs and cases]."
"The Red Black Green Red White and Blue Project"
"It was so much fun working with Leo [Castelli]. To this day, I still regret having offended even one person, if that is the case, but it is risky making art, and it is wrong to sanitize things. I think it was not timed well considering that it was the height of political correctness; all that I can say in retrospect is it was done with love, compassion, and consideration from two guys who had grown up feeling bullied, ostracized and un-included for being gay youths in suburban America."
Cocaine Buffet
"I have always loved minimalism, and had gotten used to being called a 'bad boy.' I just simply wanted to be let back into the party, meaning I wanted to be able to show my work again, so if I had to be completely honest, I would say that it was a bit of a publicity stunt. However, 17 years later, I think it is one of the best things I have ever produced."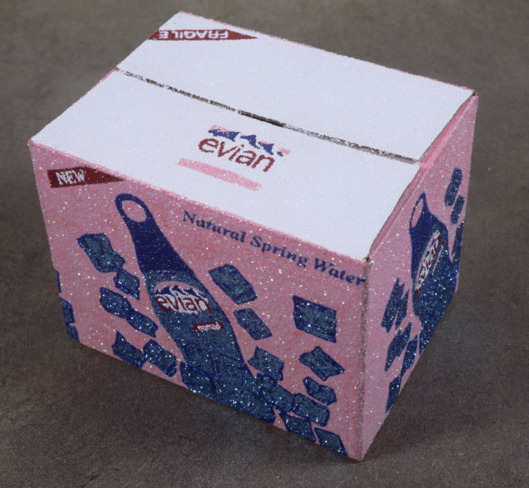 Un Carton d'Evian Nomad
"I love the simplicity of the Evian fountains.  To make one it only takes 30 minutes, cartons of bottled water, a roll of 4 mil plastic, a roll of tape, and a garden fountain."
Power of the Panda (Happy Alone)
"I loved the panda since I was a boy growing up just outside of D.C. and Ling-Ling and Hsing-Hsing were gifted to the Nixon administration and lived at the National Zoo. I begged my parents to take me as often as possible, and they took me and I drew them and took pictures of them. Years later, when I was transitioning out of being known for collaborating, they seemed to represent me in a perfect way."
Strawberry Cum
"Strawberry Cum is from a series of pink and red action paintings painted on foil insulation panels. The first 15 were all titled by Gavin Brown's [at the time] 13 year-old-daughter. They were perfect titles for the way the paintings looked, which was glittery and with lots of little girl colors. Some of her titles were Popsicles, Beauty-Mark, and Sugar Daddy. The group I made after she helped me title them, I decided to draw a clear distinction [and] give them more tawdry titles."
Suicide Painting
"I love the 'Suicide' paintings. It has taken me a lifetime to get to this desire that I have of eliminating all of the pop-culture subject matter from my work and find a kind of emptiness. It is a personal interpretation of my favorite art movement: minimalism. I know the title is jarring, but for me it is really just about choosing to be in another place."
The Andy Monument
"I am very fond of public sculpture that serves a function. I have always thought that The Andy Monument was a bookend to the Statue of Liberty, welcoming in particular all of society's misfits and freaks to be themselves and succeed in the greatest city in the world."
The Rob Pruitt Art Awards
"The Guggenheim asked me if I had any ideas of how to freshen up their annual gala. It is really important to these institutions to sell a lot of high-price tickets, as it helps fund the next season's agenda. I thought it would make a great party — the entire community together putting on a mock Oscars tailored to our industry."
Rob Pruitt x J Brand Jeans
"I feel like we are living in the era of the 'booty,' so to adorn some tight-fitting, well-made jeans with my signature gradient and then see it walking down the street was a mini miracle for me."
Rob Pruitt's Official Art World / Celebrity Look-alike Series (on his Instagram)

"I love backdoor approaches to classic forms. In this case, the classic form is portraiture, and a 'look-alike' is a quintessential Pop version of a portrait of a person. I make self-portraits using the exquisite corpse formats that the surrealists developed and had so much fun with."
 "The Obama Paintings"
"When Obama was running for president seven years ago, I got so wrapped up in the campaign, and so did my friends and the rest of the downtown New York community. We did charity events and all kinds of fund-raising; my husband and I were glued to CNN and MSNBC for a year, as well as all of the morning papers and political blogs. When he won, of course, we were exuberant. I started to think about how to channel all of this energy into what was coming next, and I set forth very quietly to do one small painting of Obama every day of his presidency. It is only now, six years later, that it seems to be such a big deal, since there are over 2,300. When it started, it was just 30 quiet minutes every morning, like doing a little yoga or any other meditative way one might begin the day. I think of it as one thing even though it is many paintings, it was only a few days ago that I saw them all together for the first time, and I have to say, for me, it was very moving.  I hope others will find it to be as well."