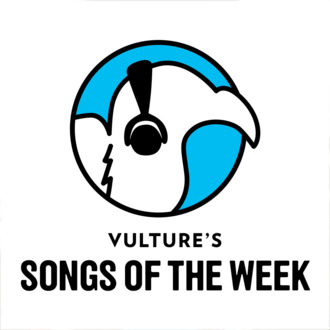 Every week, members of the Vulture staff highlight the best new music of 2015. We do not discriminate; as long as the song is worthy of your ears and attention, you will find it here. Read our picks below, share yours in the comments, and subscribe to the Vulture 2015 Playlist for a comprehensive guide to the year's best new tunes.
A$AP Rocky, "Everyday" (feat. Rod Stewart, Miguel, Mark Ronson)
A$AP Rocky has a great ear for talent. This Rod Stewart guy is going to be huge. But seriously, the trend of rappers reintroducing old British rockers is hysterical in theory yet has yielded some of the best songs of the year. Still waiting on a Big Sean/Mick Jagger collab, though. —Marcus Jones (@MarcusJonesNY)
The Bird and the Bee, "Will You Dance?"
Funny or Die does music videos. Who knew? I've been a fan of the Bird and the Bee since the release of their version of "Carol of the Bells." Inara George's voice has such a way of putting me at ease, and those feelings have intensified now that I know they endorse partying in bathrooms. High probability that this is my new shower song. —MJ
Eskimeaux, "Broken Necks"
Shouts to Stereogum, which featured Eskimeaux's new album, O.K., as its album of the week because it is a true gem. On first listen, Eskimeaux reminded me of Florence and the Machine crossed with Frankie Cosmos. I later learned that she plays in Frankie's band, so there you go. They both make what I like to call Rory Gilmore Pop: music that seems both youthful and wise at the same time. "Broken Necks" started as a song from when Eskimeaux was just a solo project, but has grown full and forceful with the backing of a full band. Take notice; you're going to hear a lot more about Eskimeaux. —Jesse David Fox (@JesseDavidFox)
Meredith Graves, "Took the Ghost to the Movies"
In her day job as the lead singer of Perfect Pussy, Graves's voice is muffled but most definitely front and center. Yet ironically, her new solo single pushes that voice further down in the mix. There are these very clear, driving drums, a big wall of guitars, and tucked underneath that are hushed vocals. The more you listen, the more melody you can pick up. It's like licking a super-subtle lollipop: By the end, you are like, "Oh, was it kumquat?" —JDF

Dev Hynes, "05/11/15"  
This week on Twitter, Devonté Hynes of Blood Orange discreetly shared over 40 minutes of ambient music for an unnamed film for which he was hired — then fired — to write the score. The music provides great insight into Hynes's less obvious musical influences; there are hints of Philip Glass–like minimalism (Hynes recently performed at the American composer's annual Tibet House Benefit at Carnegie Hall), and it also echoes some of the darkest moments from Jerry Goldsmith's 1979 score for Alien, oscillating rapidly between whimsy and total doom. No word from Hynes regarding what film he was working on or why the director in question decided to fire him, but as a stand-alone piece, this music works just fine. —Lauretta Charlton (@LaurettaLand)

Little Boots, "Better in the Morning"
Few songs make me happier than Tom Tom Club's "Genius of Love," which is why I can't stop listening to this song: It has the same vibe! You don't fine many songs that are both peppy and kind of slow. It's top-down-convertible music. —JDF
Prince, "Baltimore"
Prince's new protest song is about the death of Freddie Gray and America's police-brutality problem; I wrote about it earlier this week. I had my misgivings at first — take your upbeat, jingle-jangle folk song back to Paisley Park! — but its message is quite powerful, and worthy of your attention. —LC

Röyksopp, "I Had This Thing"
Last year, the Norwegian electronic duo released their final album, The Inevitable End. This week, they graced us with a music video for the single "I Had This Thing." Unfortunately, it doesn't feature Robyn, but it does tell the story of a seriously tragic breakup with an explosive ending. (Shout out to all of the college kids who will dance to this song alone in their dorm rooms after a bad breakup.) —LC

Third Eye Blind, "Everything Is Easy"
Last week, I was interviewing Ben Savage about shooting Girl Meets World, and he said that to maintain consistency, he still listens to the same music he did while shooting Boy Meets World: Third Eye Blind. So imagine you were like him, still very much in the world where Third Eye Blind is an everyday thing. Okay, now listen to this song. It's great! It sounds like your favorite band, Third Eye Blind! —JDF
Sharon Van Etten, "Just Like Blood"
I don't watch scary movies because they are scary, but if I did, I'd want it to feel like this song. There is that spooky organ sound and a slightly off doubled vocal that gives the song a "Is someone behind me?" energy, but it's subtle and moody and sad — like a Frankenstein (monster) walking along a lonely stream with his head down, wondering where things went wrong. Right?! —JDF
Do you like good music? Of course you do! Subscribe to Vulture's 2015 Playlist to hear the new music we're listening to every week.