The First Day of the Venice Biennale, by Land and by Sea
It's unclear whether curator Okwui Enwezor's ambitious plans hold up — but it's clear there are a hundred places to be at once.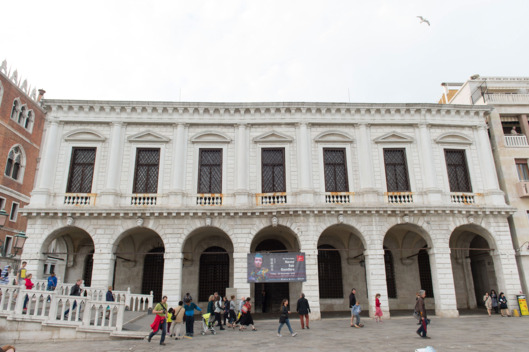 Welcome to Venice, a city besieged by bumper-to-bumper boat traffic. If a two-hour vaporetto ride from the airport doesn't have you dreaming of four wheels and open highways, then the Carnival cruise ships jamming up the Grande Canale certainly would. Those surging Uber charges back home aren't really that irritating, right? Even the fabulous folks of the Pinault Foundation were having trouble getting a private water taxi. Couldn't Francois Pinault just buy the Canale and clear them out?
Such are the logistical problems facing this century-old art extravaganza. With the 56th Venice Biennale hitting the Queen of the Adriatic a month earlier than usual, many of the Eastern-European tourists still haven't received the memo that the month of May now belongs to the art world.
And so the elbows are out — only as tools in trying to get to the 10,000 dinners and lunches and cocktail hours and other functions that dot this city. Even the Jewish Museum's Jens Hoffmann and curator Francesca Gavin were seen practicing their best duck-and-cover down Riva Degli Schiavoni, the throngs of tour guides wielding umbrellas around them. And that's just if you're lucky enough to be going to an event by land — usually you need a water taxi to get there, and usually there's floating traffic.
The frenzy isn't to buy — nothing's for sale, of course, though representing one's country is often a ticket to market gold. So instead of jousting over who gets what, it's solely a social circus: Tuesday night alone saw Jeanne Greenberg-Rohatyn and Sadie Coles's private dinner for British pavilion star Sarah Lucas, and Rolls Royce's private palazzo affair and a collector-studded Champagne fête at the Ca' Rezzonnico Gardens, all stacked on top of each other, vying for attention and Instagram snapshots and chatter about the scene the next day.
As for this year's theme, Biennale curator Okwui Enwezor urged the 89 national pavilions to negotiate what he's called the "age of anxiety." All the World's Futures, housed in the Arsenale, reflects upon torture and occasionally inflicts it — Enwezor enlisted artist Isaac Julien and others to orate Das Kapital on continuous loop until the Biennale's conclusion, and piped the sound smack in the middle of the Central Pavilion.
Speaking of anxiety: Nearly every artist whom I spoke to wasn't sure if her or his installations would arrive in time. On Tuesday, in the official exhibition, housed in both the Giardini Gardens and the Arsenale, some of the installations hadn't even been finished. Poor Tania Bruguera — first there was her exclusion from the biennale in her native Havana after being deemed a criminal by the Cuban government, then there were ten young Venetians shouting, "Non Pozzo!" with drills and hammers working on the Cuban pavilion.
It's quite early, but at least so far, it seems the jury is out on the quality of the show. Professionals appeared stumped. One famous curator walked through the exhibition backwards — he started in the last room — and offered an almost mirrored-image impression of the whole thing. Another art-adviser-slash-curator-slash-auctioneer — okay, fine, it was Simon de Pury — was pacing around focused and frantic, his usually cool demeanor clearly rattled.
But Tuesday entry is reserved for the only the highest echelon of art-worlders, and as of 7 p.m., only seven or eight yachts were parked outside the Giardini. Where is everybody? Perhaps they arrive today, when even more parties and opinions will appear by Arsenale. And the canals will be even more jam-packed with vaporettos.