8 New Offerings From Dead Authors
Books from the great beyond.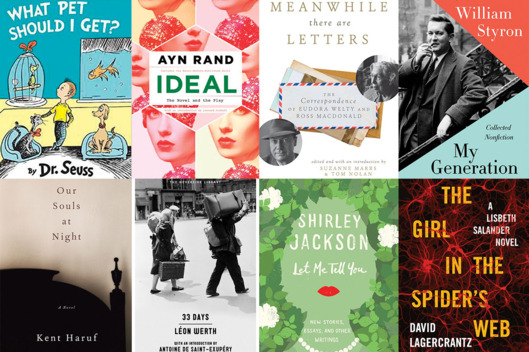 What Pet Should I Get?, by Dr. Seuss (1904–1991)
Oh, who knows the places you'll go! The publishers, anyway, are planning a bank trip — Random House ordered a first printing of a million copies for WPSIG, believed to have been created by Seuss between 1958 and 1962 and then discovered, lost, and rediscovered by his widow. It features the kids from One Fish Two Fish Red Fish Blue Fish and couplets that — you bet — rhyme pet with get.
July 28, Random House; 48 pages; $18
Meanwhile There Are Letters, by Eudora Welty (1909–2001) and Ross Macdonald (1915–83)
The odd-couple correspondence between southern novelist Welty and Canadian crime writer Macdonald amounts to an epistolary meet-cute, one touched with what if — Welty never wed, and Macdonald's marriage was mild, facts hinted at in these letters' gentle swings between platonic and romantic love.
July 7, Arcade; 568 pages; $35
Let Me Tell You, by Shirley Jackson (1916–1965)
A master of uncanny suspense, Jackson wrote sentences that crept up on the reader, knife in hand. Throughout these previously unpublished pieces, whether short stories about Main Street murders or Jackson's description of her own eerie writing process (sleepwalking and ghosts helped), the author's mordant wit and nuanced prose are often shiver-inducing.
August 4, Random House; 448 pages; $30
33 Days, by Léon Werth (1878–1955)
If English-language readers know Werth, it's likely as the man to whom Antoine de Saint-Exupéry dedicated his deathless classic The Little Prince. A nonfiction account of the Jewish Werth's flight from Paris after the Nazi invasion, the riveting 33 Days, now in its first English translation, proves that the author was no mere footnote.
Available now, Melville House; 144 pages; $16
Ideal, by Ayn Rand (1905–1982)
Some novels hold the power to shape lives. Objectivist goddess Rand's Hollywood allegory Ideal is not one of them. Troubled starlet Kay Gonda goes on the lam and shows up at the homes of six fans who have written to her. People say stuff like "The doctor's bills is something fierce." Even Howard Roark might've advised letting an editor take another pass.
July 7, New American Library; 256 pages; $27
My Generation: Collected Nonfiction, by William Styron (1925–2006)
A problem with being successful is that people will pay you to do things other than what you did to become a success. Styron was a great novelist; My Generation suggests that he was only a pretty good nonfiction writer. He's best when he goes hard — e.g., his essay defending Fitzgerald — but much of this material has the vibe of well-wrought job work.
June 2, Random House; 656 pages; $35
Our Souls at Night, by Kent Haruf (1943–2014)
Haruf passed away this past November at 71, but not before finishing Our Souls at Night, a glowing sunset of a novel. Returning to his fictional Colorado town of Holt, Haruf traces, with unsentimental grace, the tentative romance of 70-something widowers Addie and Louis as they navigate small-town gossip, confused grandkids, and their own cautious hearts.
Available now, Knopf; 192 pages; $24
The Girl in the Spider's Web, by David Lagercrantz
Okay, here's a bit of a fudge: Lagercrantz is alive. But Stieg Larsson, who wrote the megaselling series of which this novel is a continuation, passed away in 2004. Larsson's literary estate tapped Lagercrantz to further the story of goth-hacker Lisbeth Salander and journalist Mikael Blomkvist, who again deal with cybercrime and lurid corruption.
September 1, Knopf; 400 pages; $28
*This article appears in the June 1, 2015 issue of New York Magazine.