Chet Haze May Have Trashed a Hotel Room
That's Tom Hanks's son.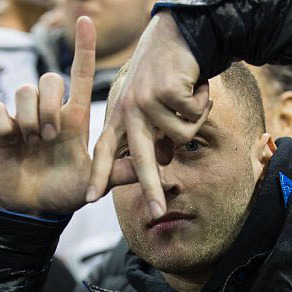 The Sunday Mirror reports that Chet Hanks (also known as Chet Haze), the son of Tom Hanks (but not the one who was on Mad Men and Fargo), is sought for questioning by the British police, having allegedly trashed a hotel room near Sussex's Gatwick Airport. According to the paper, Hanks "is said to have gone berserk, causing £1,200 worth of damage when he took three girls back after a late night party."
An unnamed (and, as Gawker points out, somewhat sketchy-sounding) source told the Mirror:
"He asked the girls if they would join him in the bed, but they are not like that. So he started screaming and making a right noise. He saw some sprinkled make-up called banana powder and started asking 'who's got the coke?' But nobody did drugs there."
"Then he started shouting that he was not going to share it with another man."
"Angry airline pilots staying at the hotel complained about the noise before a receptionist went up to the room to plead with Hanks to keep quiet."
"He was pretty ­obnoxious once he started drinking at the club," the source continued. "He kept saying 'do you know who I am?' Nobody was all that impressed and that was clearly annoying him. Nobody recognised him."
Local detectives said only that they had been "given the name of the suspect, a 24-year-old man from the USA," and that they "are working with other agencies to try to trace him so he can be interviewed." Meanwhile, Hanks — who last drew our attention for failing to understand why he shouldn't use the N-word — called the allegations a "slanderous, bold-faced lie."