Did Lil B Invent the Flick of the Wrist?
Your guide to one of the year's biggest memes.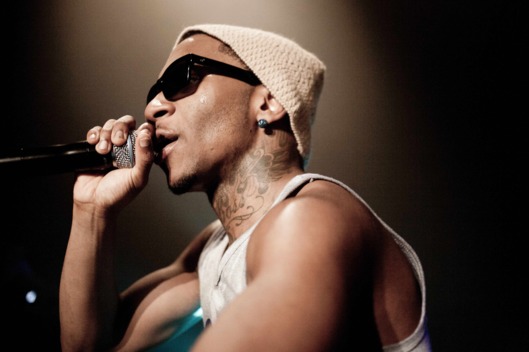 The flick of the wrist is one of the biggest memes of 2015, but it's got a murky provenance. Where did it come from, exactly? Definition-wise, here's what Urban Dictionary has to say:
Flick of da wrist
verb

The primary action in the grueling task of cooking cocaine into crack. The dope must be whipped hard and swiftly in the pot to ensure a quality product. This process typically takes place inside the bando.
Here's how we're supposed to use the phrase in a sentence:
Look at da flick of da wrist while I'm scraping the sides of the pot. *Skrrrrrrrrrt* Good thing I have plenty of baking soda!
Yes, the flick of the wrist meme that your 9-year-old cousin is obsessed with on Vine right now is actually about cooking crack in an abandoned house. However, the origin story may also involve Lil B, the rapping seraphim and social-media savant with a heart of gold who also goes by the moniker BasedGod.
In 2010, Lil B, iconoclast that he is, introduced a crack-free version of flicking your wrists, or cooking, in a video tutorial called "OFFICIAL 'COOKING DANCE' HOW TO VIDEO!! LIL B," a step-by-step ten-minute seminar on how to do the dance that Houston rapper Chedda Da Connect would eventually make popular this year with his hugely successful song and music video "Flicka Da Wrist."

"It's always good to eat healthy and make sure your diet's correct," Lil B begins. "To cook, it takes time. You've got to know what you're doing and you've got to be comfortable. So don't trip."
He goes on to explain the hierarchy of the kitchen (chefs, head chefs, top chefs, master chefs — Lil B is a master chef), the rules of cooking (you have to keep a straight face), and the fundamental building blocks of cooking (stirring, whipping, chopping, seasoning, foraging, eating). "Anybody can cook," he concludes, because cooking is a metaphor for being patient, working hard, and making the most with what you've got.

Five years later, these BasedGod basics are everywhere. "Trap Queen," "Flicka Da Wrist," "CoCo," and "Move That Dope" are just a few of the songs that pay tribute to master chef Lil B, the sensei of wrist-flicking and cooking, but they don't necessarily have to do with crack.
"This throws it back to Lil B a little bit," writes Father in his Genius annotation for "Look at Wrist" featuring iLoveMakonnen. "When I came up with this [song], I was like, 'I'm going to bring cooking back real quick.'"
Referring to the song's reference to cooking crack, he evokes the Lil B cookbook gospel. "It's like putting in work," he explains. "I never had to whip a brick but I get the idea of how to put in work."

Woe betide anyone who does not give BasedGod credit, though. Houston Rockets shooting guard James Harden learned this the hard way after he started doing the cooking dance on court.
"Does he know the originator of the cooking celebration?" Lil B asked in a recent interview with CBS Sports. "I just want to make sure that he pays homage to the artist that created the original work." Lil B has since put a curse on Harden via Twitter. (Perhaps not coincidentally, the Rockets were knocked out of the NBA playoffs by the Golden State Warriors.)
The flick of the wrist isn't twerking or the Harlem Shake or even the Dougie, but the important thing to remember is this: When you're looking at it, thank the BasedGod. He's the true source of so many wonderful memes, and without him, this one would still be stuck in the bando.