This Is What Common Will Look Like in Suicide Squad
Character still unknown.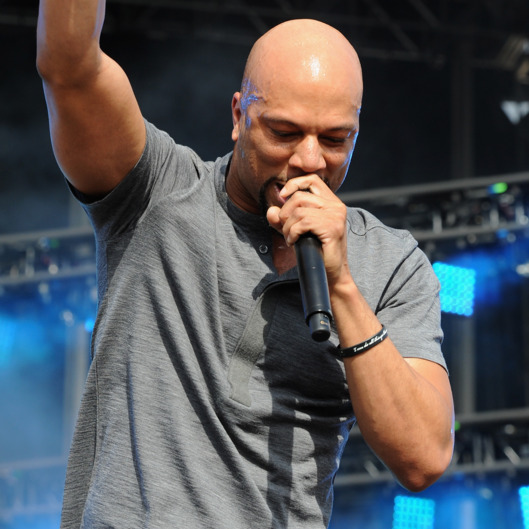 By now most of the Suicide Squad cast members (including Jared Leto) have unveiled their edgy onscreen looks. Common, who joined the crew a little late in the game, was among the last remaining costume mysteries. Thanks to pictures of the musician-slash-actor floating around social media this week, however, even his criminal getup is no longer a secret. (His character is another story, but more on that below.) The following shots offer a clear glimpse at what he will look like in the film — which is to say very leathery, pierce-y, and tattoo-y.
Here he is, from a few different angles:
Common in 'Suicide Squad' -- Definitely Black, But Black Manta?? (PHOTO) http://t.co/zRGaFhxjUO

— TMZ (@TMZ) June 11, 2015
.@Common spotted on set and in character for #SuicideSquad. http://t.co/4StflkyM3i pic.twitter.com/oD2VMGkFDT

— REVOLT TV (@RevoltTV) June 11, 2015
COMMON on the set of #SuicideSquad!! I guess he's not Green Lantern, but who the hell is he?!? pic.twitter.com/aNBtCn3t4E

— Superhero Central (@SuperCentralWeb) June 11, 2015
It had been widely rumored that Common would be playing Aquaman's archnemesis Black Manta, but because of his newly released appearance, that seems unlikely — unless he's supposed to look like an evil SeaWorld trainer that rides devil rays around like they're Harley-Davidsons. If that is the case, then, nailed it. The Hollywood Reporter and other outlets have noted, though, that he's probably more in line with the Tattooed Man's look (for obvious reasons), or that he might also be a badass, David Ayer–ified version of Doctor Mist or Bronze Tiger. Sure. Let the guessing games begin — this movie's still unfortunately a ways away.