What's New on Netflix: July 2015
Including <em>Alive</em>, <em>Bulworth</em>, and the new season of <em>BoJack Horseman</em>.
Get New on Netflix delivered every month.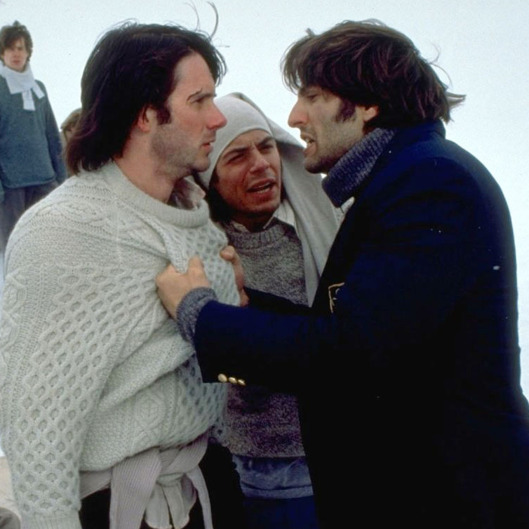 At the beginning of (and throughout) every month, Netflix Streaming adds new movies and TV shows to its library. Here is a quick list of several that you might be interested in. Some of these may also have previously been on Netflix, only to have been removed and then added back. Feel free to note anything we've left out in the comments below.
Alive (1993)
The real-life story of a Uruguayan rugby team whose plane crashed in the Andes is brought to harrowing life in Frank Marshall's drama, which adds an element of religious mysticism to the team's struggle to survive. Its casting was controversial even at the time — the Uruguayans are played by American actors like Ethan Hawke and Josh Lucas — but Marshall doesn't whitewash the horrors of the team's two-month ordeal, which included starvation, hypothermia, and cannibalism. Don't watch it before a flight!
Bulworth (1998)
The world owes Warren Beatty's Bulworth many thanks: Not only did it give us "Ghetto Supastar," the best song Pras has ever recorded, it also gave the political press a brilliant new metaphor. (A "Bulworth moment" is when a politician decides to start telling the truth, no matter the electoral cost. It is apparently one of Barack Obama's favorite daydreams.) The movie itself is like a satiric mirror to the paranoid thrillers Beatty made in the '70s — at once cynical and idealistic, and entirely uninterested in pulling its punches. It also convinced mainstream culture that there was nothing funnier than a white guy dressing up as a rapper, a trend that has yet to entirely dissipate 17 years later.
The Secret of Roan Inish (1994)
The Irish tell stories of selkies, seals who escape their blubbery skin to walk on land as humans. In John Sayles's visually stunning family film, young Fiona (Jeni Courtney) travels to her grandparents' home on the Irish coast, where she learns her family's history is interwoven with the mysterious creatures. Sayles's low-budget style suits the earthiness of the film's Celtic mythology, and the rocky shores of Donegal have never looked more beautiful.
Serena (2014) (Available July 9)
Why did a film starring Bradley Cooper and Jennifer Lawrence go straight to VOD? Read Vulture's post explaining exactly what went wrong with this star-studded literary adaptation, and then see for yourself!
BoJack Horseman (Season 2) (Available July 17)
If the world were fair, Netflix's animated comedy would have the buzz of a House of Cards or an Orange Is the New Black. But, of course, one of the lessons of BoJack Horseman is that the world is not fair. BoJack (Will Arnett) is a self-loathing '90s TV star who attempts to get his career back on track by writing a memoir. In the words of our own Margaret Lyons, it's one of the funniest shows about depression ever, rivaling Archer and 30 Rock in the jokes-per-minute department.
Wet Hot American Summer: First Day of Camp (Available July 31)
Literally every cast member from the 2001 cult classic — yes, even Bradley Cooper — returns for this prequel series, which Netflix brags will feature "the oldest teenagers ever." Hearts will be broken, lessons will be learned, and maybe, just maybe, we'll find out more about that satellite.
NEW SEASONS OF TV
Death in Paradise (season 3) (July 1)
Invizimals: The Alliance Files (season 1) (July 1)
La Reina del Sur (season 1) (July 1)
Octonauts (season 3) (June 1)
El Señor de los Cielos (seasons 1–2) (July 1)
Velvet (season 2) (June 1)
Knights of Sidonia (season 2) (July 3)
Hell on Wheels (season 4) (July 4)
White Collar (season 6) (July 4)
Witches of East End (season 2) (July 7)
Violetta (seasons 1–2) (July 10)
Bad Ink (season 1) (July 14)
Bible Secrets Revealed (season 1) (July 14)
Preachers' Daughters (season 2) (July 14)
Storage Wars: Texas (season 1) (July 14)
The Killer Speaks (season 2) (July 14)
H20: Mermaid Adventure (5 new episodes) (July 15)
Glee (season 6) (July 18)
Marvel's Hulk and the Agents of S.M.A.S.H. (season 2) (July 28)
My Little Pony: Friendship Is Magic (season 5) (July 30)
Turbo Fast (season 2) (July 31)
NEW SPECIALS:
Dave Attell: Road Work (2014) (July 1)
Chris Tucker Live (2015) (July 10)
Tig (2015) (July 17)
OTHER MOVIES AVAILABLE:
July 1
An Honest Liar (2014)
Bad Hair Day (2015)
Bionicle: The Legend Reborn (2009)
Grandma's Boy (2006)
Hostage (2005)
Piglet's Big Movie (2003)
Saw V (2008)
Set Fire to the Stars (2014)
Shooting Fish (1997)
Underworld: Evolution (2006)
July 4
Faults (2014)
July 14
Creep (2014)
Goodbye to All That (2014)
Lost Soul: The Doomed Journey of Richard Stanley's Island of Dr. Moreau (2014)
July 15
Da Sweet Blood of Jesus (2014)
Penguins of Madagascar (2014)
The Physician (2014)
July 16
Changeling (2008)
July 18
Java Heat (2013)
July 23
Teacher of the Year (2014)
July 25
The Guest (2014)
July 28
Comet (2014)
July 30
Almost Mercy (2015)
The Wrecking Crew (2008)
Get New on Netflix delivered every month.