Diddy Has Avoided Felony Charges
In the alleged kettlebell incident.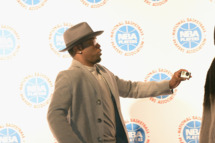 Prosecutors have decided not to charge P. Diddy with felony assault and battery for his alleged kettlebell incident at UCLA, CNN reports. The case will instead go to the L.A. City Attorney's office for misdemeanor consideration. "We are thankful that the district attorney rejected felony charges in this matter," Diddy's attorney told CNN. "This case never should have been part of the criminal justice system to begin with." Still: Probably a good idea to stick with making the new music, Diddy, and doing less of the confrontational-slash-heroic-slash-mysterious things with weights in hand.