Paul Feig Reveals the Names of His Female Ghostbusters, Testing Whether Any Nugget of Ghostbusters Information Can Ever Be Too Small to Be Blogged
Who ya gonna call? Abby Yates (among others).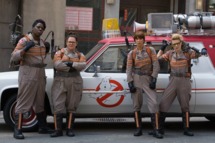 As part of the promotional efforts for his Ghostbusters reboot, Paul Feig is currently conducting a daring scientific inquiry into whether or not a piece of news about the movie can ever be too small to be aggregated. Today's tidbit: In response to a fan's inquiry, Feig revealed on Twitter the first and last names of the four women protecting New York from ghoulish threats: Leslie Jones is Patty Tolan, Melissa McCarthy is Abby Yates, Kate McKinnon is Jillian Holtzmann, and Kristen Wiig is Erin Gilbert. Everything checks out — those are certainly names!