Julia Roberts Has a Mother's Day Movie Up Her Sleeve
Jennifer Aniston, Kate Hudson, and Jason Sudeikis might be in on it, too.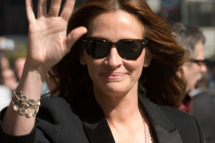 Deadline reports that Julia Roberts is set to star in a self-explanatory movie called Mother's Day, about, yeah, a lot of different mom stories. Think of it as the Traffic of matriarch movies. Probable mamas Jennifer Aniston and Kate Hudson, along with improbable mama Jason Sudeikis (who will hopefully play a meta curmudgeon upset he isn't in Father's Day), might be in on this, too. Garry Marshall will direct from Anya Kochoff-Romano and Lily Hollander's script, à la holiday pics New Year's Eve and Valentine's Day. Always a treat.