Michael Douglas Would Love to Join the Avengers
"I'll go anywhere they want me to. I like this Marvel family."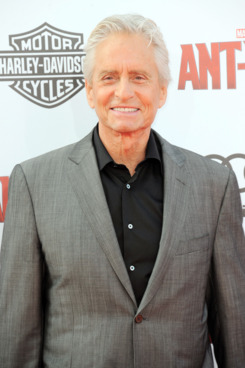 Michael Douglas has been a part of movie history for most of his working life, but even at age 70 he's still open to new chapters. When we chatted with him earlier this week at the Los Angeles world premiere of his new Marvel movie Ant-Man, Douglas raved about the craft that went into it. "It's incredible," he said, "when you have a break from working with the first unit, which is the actors, and you get to go watch the second unit with the stuntmen or the third unit with the special effects or the fourth unit, which is the ant's point of view — the macro photography, and you see how they put it all together."
In fact, now that his character Hank Pym has been added to the Marvel cinematic universe, Douglas wouldn't mind popping up in one of the studio's even bigger films. "I'll go anywhere they want me to," he told us. "I like this Marvel family; it's a lovely group. Their track record's impeccable — I mean, that's 12 in a row, right? Who's done that?"