It's Always Sunny in Philadelphia's Rob McElhenney Is Making a Minecraft Movie
Yes, like the video game.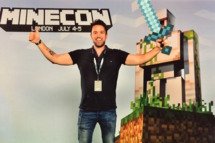 Vu Bui, COO of Mojang, announced on Twitter Tuesday that It's Always Sunny in Philadelphia star and co-creator Rob McElhenney will direct a movie based on the very, very popular video game Minecraft. Before you scoff at Hollywood's need and ability to make everything into a movie, remember that over the course of its short history, Minecraft has built quite a rich world for itself — it's not like they are making an emoji movie, or something. Oh, wait.