Get Your Elisabeth Moss Fix With the Trailer (and Exclusive Poster) for Queen of Earth
The director, Alex Ross Perry, talked to us about Moss's go-for-broke performance.
As fans of Mad Men have no doubt realized since the show's May finale, Elisabeth Moss withdrawal is a real and very painful thing. Fans of this terrific actress may have perked up this week when news broke that she's onboard for a second season of Top of the Lake, but that's going to take forever to come to fruition. Isn't there anything around the corner that can give us a fix?
How about a feast instead? You've only got a month to go until Moss can knock you out with her acclaimed performance in Queen of Earth, directed by Alex Ross Perry. In it, Moss plays Catherine, a woman who's coming unglued after a breakup, and while she's meant to recuperate with her best friend (Katherine Waterston) during a weeklong stay at a lake house, it's going to get a whole lot worse before it can get any better. That's bad news for Catherine, but great news for a performer like Moss, who throws herself into character to deliver a performance that's been praised as "utterly fearless" and "gloriously unhinged."
It helps that Queen of Earth marks Moss's second film with director Alex Ross Perry, who'd directed her to great acclaim in Listen Up Philip and was determined to push her even further this time around. "I don't know how easily I could just meet an actress and say, 'Hey, this is how far I need you to go,'" Perry told Vulture this week. Fortunately, Moss and her director already had a strong collaborative bond, and she even came aboard to produce Queen of Earth. "We all trust one another, and it's a safe space with no embarrassment," he said. "You know, when she's crawling around on her hands and knees in her nightgown, with tears streaming down her face and her makeup is running, then everyone else feels like they can basically go as far as they want and not feel ashamed."
In addition to reteaming with Moss, the movie reps another continuation of Perry's work with an important collaborator: artist Anna Bak-Kvapil, who painted the striking poster for Queen of Earth, which you can see below.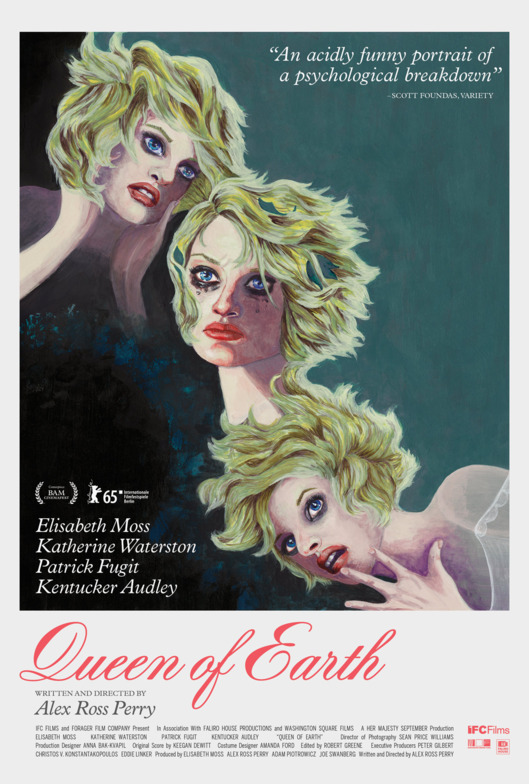 Bak-Kvapil also illustrated the terrific Listen Up Philip poster, and her continued involvement with Perry's work was paramount to the director. "You really never know how a company is going to decide to position your movie," he told us, "and I said, 'Just for my own mental health, I'm really not going to spend the next six months of my life fighting with a distributor about every small decision, so if they don't want to embrace the kind of aesthetic that we've done before, I'm not going to make these phone calls that I've done in the past where I'm begging people to see it my way.'" Fortunately, IFC Films backed Perry and Bak-Kvapil's vision. "They're really allowing the material — the poster and the trailer — to lean in 100 percent to the kind of '70s aesthetic that the film really relishes."
Bak-Kvapil and Perry, who are engaged, have been working together since his 2009 debut Impolex, for which she designed some tarot cards. "Like a lot of people's first movies, it kind of was an all-hands-on-deck affair where you're taking advantage of the skills that everyone you know has to offer," says Perry, who has sought to involve Bak-Kvapil in his projects ever since. "I'm hoping that this exposes her work to more people who are interested in having a classy, unique element of design for their films or albums or books."