TLC Cancels Duggars' 19 Kids and Counting
The final shoe has dropped.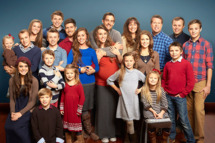 TLC has officially canceled 19 Kids and Counting in the wake of the Josh Duggar molestation scandal, the Associated Press reports. The show had already been pulled from TLC's airwaves, as well as from streaming services like Hulu, after Duggar admitted to molesting several young girls, including his sisters, when he was a teen. TLC also told AP it will air a one-hour, commercial-free documentary about child abuse, potentially as early as next month.