Ash vs Evil Dead Will Give the Fans What They Want
Blinding amounts of blood and lots of Ash.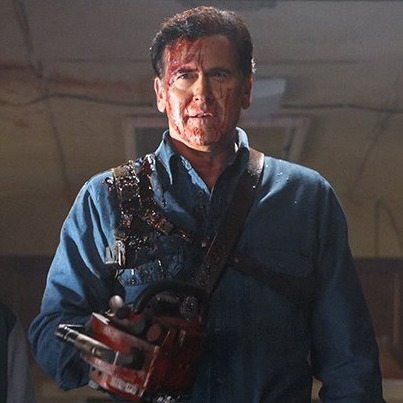 When Ash vs Evil Dead star Bruce Campbell and creator Sam Raimi showed up for yesterday's Starz TV Critics Press Tour session, Campbell was quick to explain how the reason he had to do this show was because fans wouldn't have it any other way, especially considering how he keeps getting asked to appear at conventions some 35 years after the original Evil Dead movie. He also insisted that those fans won't be disappointed with the show, particularly when it comes to the series' requisite gore. Said Campbell, "People ask how much blood there will be. I went blind shooting a scene the other day. That's how much blood there is."
Raising expectations further, Campbell added, "Good or bad, you're not gonna see anything like this. Doctor/lawyer/cop shows make me wanna hang myself as a viewer. I think you will find things that will disturb you as much as the angry molesting tree. But they will be different and new." And Raimi wanted fans to know how much Ash they'll be getting as well, noting, "TV is all about the character. We can let Bruce talk and talk, which he likes to do." If yesterday's session was any indication, Campbell's still got that gift, and then some.