Just How Game of Thrones–y Was the Staten Island Yankees' Game of Thrones Night?
George R.R. Martin, Ghost the wolf IRL, and lots of "shame!" chants.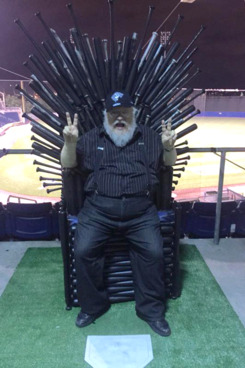 On Saturday, the Richmond County Bank Ballpark in Staten Island played host to a Game of Thrones–themed game, in which the minor-league Staten Island Yankees (playing as the Staten Island Direwolves) took on the Hudson Valley Renegades (as the Lannister Lions). The renaming was part of a lure to attract the presence of author George R.R. Martin, a Mets fan who wouldn't endorse anything with "Yankees" in the title, and, of course, to give a record-breaking 7,529 fans a different take on the age-old Starks-versus-Lannisters feud. (By the way, the Starks won 10-1.) Here's how GOT cosplay took over the ballpark for the night.
A Less Terrifying Iron Throne
Instead of swords, this one was made out of baseball bats. Marcus, a fan from Brooklyn, posed on the throne with a bottle of Game of Thrones beer. "Everyone seems to be having fun getting their picture taken," he said. "Splinters are the worst thing you can get from this one. The other one would cut you." Even GRRM himself got in the chair and posted his turn on Twitter.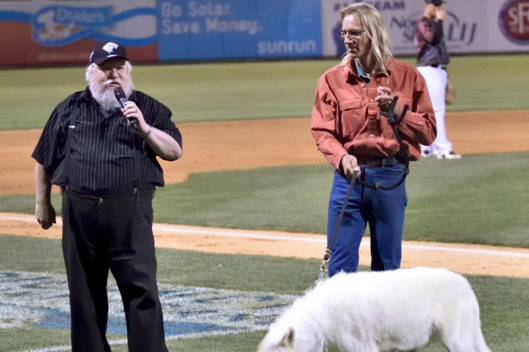 A Wolf Trails Martin and the Crowd Wonders, 'Is That Ghost?'
That wolf you heard howling? It could have been the recorded version played over the ballpark speaker when the Direwolves were up to bat — or it could have been Flurry, the real-life arctic wolf who joined Martin during his appearance and greatly resembled Ghost, Jon Snow's white direwolf on GOT. Kids especially wanted to pet Flurry, but his handler, Leyton Jay Cougar, had to remind the crowd repeatedly that wolves are wild animals and they should keep their hands to themselves. (Although when Flurry nudged us and gave a look that seemed to indicate that it would be okay, we couldn't resist giving Flurry a little love.) The whole event was arranged to raise money for Martin's pet cause, the Wild Spirit Wolf Sanctuary, a nonprofit rescue facility that takes in abused and abandoned wolves. An auction of the game's custom-designed Direwolves and Lions jerseys (which is running until Wednesday) has raised about $8,000 so far, and one of the team's owners also made a $10,000 donation. In response to the check presented at the top of the eighth inning, a nonplussed Flurry marked his territory on the field.
The Red Wedding, Only With Mascots
In between innings, Yankees mascots Scooter and Red held trials by combat, jousted with tourney swords, and reenacted the Red Wedding as Red's Wedding, in which Red joined in holy matrimony with the other team's mascot. As you might imagine, things did not go well for the newlyweds, who were chased around by cheerleaders with water guns until they were "dead."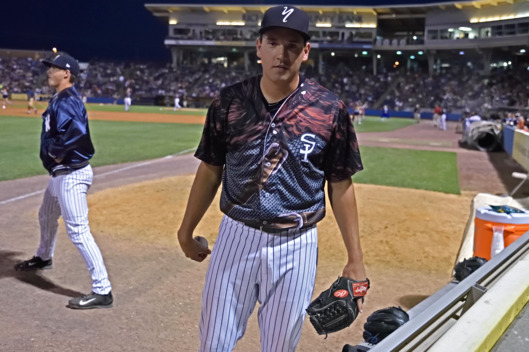 GOT Swag and the Martin Touch
The first 2,500 fans through the gate got a GOT-Yankees hat, which, of course, is already showing up on eBay. Roughly 400 fans stood in a line that snaked behind third base to left field to have Martin sign their books, banners, and body parts during the first four innings of the game. A few brought him offerings — a wedding invitation, a song for Lyanna Stark on a Direwolf flash drive — but the ones he chatted with the longest kept the topic to sports (particularly the Mets and the Jets — he's worried about their offense).
An Authentic Sound
Both the Direwolves and the Lannisters had theme music straight from the show, which played on the ballpark speakers when they were up to bat. Also in the mix at various points were takes on "The Bear and the Maiden Fair," "The Rains of Castamere," and the oh-so-malleable Game of Thrones theme song.
"Lords and Ladies!"
Joe Naimoli, the entertainment host for the Staten Island Yankees, tried to make the game feel more akin to a jousting tournament. "I'm going to be blatantly honest with you, because my nose can't grow any bigger," Naimoli told us while we hung out in the dugout. "I've seen very few episodes, only a few from the first and second seasons. But I learned about the Red Wedding and other things, and maybe it was enough. Fans have been giving me kudos, but maybe that's because of the fur [cloak]." (This was a hot summer night, so anyone wearing fur got major props.)
A Sea of Khaleesi Wigs and Fur Cloaks
While walking into the ballpark, we came across a Jon Snow, a Khaleesi, a Sand Snake, and a White Walker, all decked out in full regalia and color contacts. "I have a fur cloak, I have a lightweight kilt, I've committed fully here," said one Jon Snow (whose real name was Andrew). A few admitted they wouldn't have come to the game otherwise. "I don't like baseball at all," Kristin the White Walker confessed with a laugh. Later in the game, a contest was held for best attire, and the winner was a Daenerys Targaryen who brought her own (toy) dragons. "I am the mother of dragons," the Khaleesi Michelle told us. "Nobody else should be winning that competition."
Night's Watch Recruits
Last we left the men of the Night's Watch, their manpower had been greatly depleted — so the Staten Island Yankees did a recruitment drive, and had hundreds of volunteers swear their vows in unison with the announcer. The army-recruitment guys, however, reported that they had fewer recruits than usual — possibly because this crowd was more interested in signing up for fantasy wars, not real ones. We wonder, though — if no weirwood trees were present, did the vows really count?
"Shame! Shame! Shame!"
Fans cheered this season-five rallying call as an iron bell rang out. "We do it if the other team strikes out, if someone has a funny-sounding name," said Arthur Kuyan, a season-ticket holder who was leading the chant from a particularly rowdy section behind home plate. "Anything embarrassing, we're yelling, 'Shame.' We're trying to get the whole crowd into it. This thing needs to go to the big leagues." He stopped to yell, "Shame!" at a Lannister Lions player. "See? Now he's really embarrassed, and he has to question his own life."