The Mindy Project's Ike Barinholtz Will Make His Literary Debut in 2017
"Hot takes" from the man behind Morgan.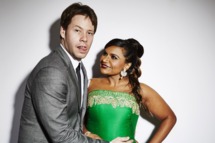 The Mindy Project's writers sure do keep busy: Ike Barinholtz, who scripts for and stars in Mindy Kaling's sitcom, announced today that he will release an essay collection in 2017 from Grand Central Publishing. Perhaps the man behind Morgan was inspired by Kaling herself, who is releasing a follow-up to her wildly successful 2011 memoir this September as well as collaborating with her BFF B.J. Novak in her abundant downtime. Barinholtz promises his forthcoming book will cover "everything from sex to pizza"; no word on how much those two subjects overlap. Don't expect Barinholtz's book to be too heavy, though: "I just want people to say, 'OH! THAT GUY! YEAH, HE'S FUNNY, I'LL BUY HIS BOOK, WHAT THE HELL, I'VE GOT LIKE A FIVE HOUR FLIGHT,'" he said in a statement. He has yet to reveal a title for the collection. Here's hoping Barinholtz is as inspired by Bossypants as his character is.