Janelle Monáe Made a Powerful Rallying Cry for #BlackLivesMatter
"Hell You Talmbout" challenges you to #SayTheirNames.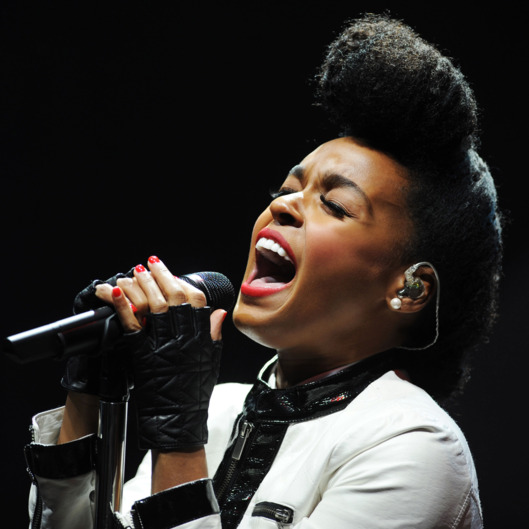 Janelle Monáe has spent the last two days marching for freedom, but not from a record label or any other industry constraint as musicians often do. She's been marching for the freedom to live — for all black people to live. It's a march she began on Wednesday in Philadelphia, where she brought out the members of her imprint Wondaland Records for the live debut of a song called "Hell You Talmbout." She prefaced it with this striking explanation:
This song is a vessel.

It carries the unbearable anguish of millions.

We recorded it to channel the pain, fear, and trauma caused by the ongoing slaughter of our black brothers and sisters. We recorded it to challenge the indifference, disregard, and negligence of all who remain quiet about this issue.

Silence is our enemy. Sound is our weapon.

They say a question lives forever until it gets the answer it deserves ...

Won't you say their names?
A year ago, as the #BlackLivesMatter movement ignited a civil-rights revolution for a new generation in the wake of Michael Brown's murder, it began its call to action with one phrase: "Hands up, don't shoot!" in reference to the spike in police brutality against black men and women this decade. Now, in response to both the rising death toll and the disparate coverage of black women killed by police compared to black men, activists chant, "Say her name." Monáe and her Wondaland associates, including "Classic Man" duo Jidenna and Roman GianArthur, have taken that message and put it to song. In Philadelphia yesterday, in New York City this afternoon, and in "Hell You Talmbout," released today, they honor dozens of black men and women whose lives were taken by police — too many without consequence — by saying their names to the tune of a drum line.
By the time one artist reads off Michael Brown's name, his voice shaking with anger and heartache, it'll dawn on you that this isn't just an ordinary protest song or act of resistance. It's a rallying cry, the same kind Jidenna co-opted from the "I Am a Man!" posters used in the Memphis sanitation workers' strike of 1968 during his BET Awards performance of "Classic Man" earlier this summer, and one that deserves to be blasted through every speaker at every #BlackLivesMatter gathering going forward, right next to Kendrick's "Alright." Finally, the movement might've found its "Mississippi Goddam."