Here Is the Unfortunate Tale of Nicki Minaj's Madame Tussauds Wax Figure
Featuring Azealia Banks, the Oracle.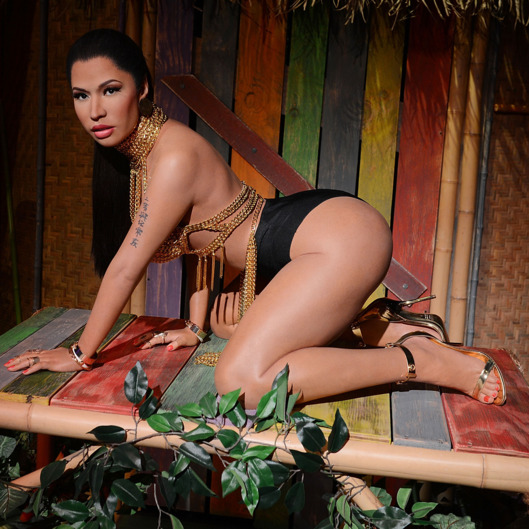 Earlier this month, and to much fanfare, Madame Tussauds in Las Vegas unveiled a wax figure of Nicki Minaj. The exhibit was positioned as a major attraction, but unfortunately, things have not gone exactly as planned since August 4 — though Azealia Banks would say otherwise (more on that below). Because of a surge of lewd pics appearing all over social media, the museum this week has decided to redesign its work. Wax Minaj, which required nearly six months, 20 artists, and 300 body measurements to construct, shows the rapper on all fours in a lifelike snapshot from her "Anaconda" video (jungle backdrop included!). Right after Wax Nicki's debut, Madame Tussauds kicked off a selfie contest, set to run through August 30. The winner, who had to have a pic tagged with #mtnickiselfie, was going to have a chance at winning a Nicki goodie bag.

Initially, Nicki and her fans were pretty into it, excited by the honor:
I love it and I can't wait to see it 😍 https://t.co/zCl1T5gNap

— NICKI MINAJ (@NICKIMINAJ) August 4, 2015
😂 they had the dancers ready and everything. 😂😂😂😂😂😂😍😍😍😍😍😍😍😍😍😍🙌🙌🙌🙌🙌🙌🙌🙌 so… https://t.co/Vl4gLTFdaC

— NICKI MINAJ (@NICKIMINAJ) August 4, 2015
But one onlooker, Azealia Banks (who shall now be known as the Oracle), realized this was not a good idea:
Wow, they finally give nicki minaj a wax figure and it's a statue of her bent over on all fours...... White people yo....

— AZEALIA BANKS (@AZEALIABANKS) August 12, 2015
As much as that woman has accomplished, they had to put her on all fours... Why not standing up with a mic in her hand ???

— AZEALIA BANKS (@AZEALIABANKS) August 12, 2015
All ppl are gonna do is go up to that statue and take pictures shoving their crotch in her face and putting their crotch on her butt

— AZEALIA BANKS (@AZEALIABANKS) August 12, 2015
Obviously, the Oracle was right. Wax Nicki's provocative pose, plus the photo encouragement, prompted a snowballing of inappropriate posts (Nicki appeared to laugh off some of the more mild uploads but hasn't responded directly yet to the more offensive ones). Warning: Some NSFW:
From Tuesday at the launch of @NICKIMINAJ's wax figure in @TussaudsVegas! It. Was. Beautiful. 😻 #MTNickiSelfie pic.twitter.com/XBUlcn7mB7

— Georgina♡ (@pawsup23) August 6, 2015
if i was nicki minaj & had that bod & there was a wax figure out there of me- i would be terrified 2 go on soc. media pic.twitter.com/mHiWr5l44e

— christa slayer (@christa_sl8r) August 10, 2015
Now I understand what @AZEALIABANKS was talking about. When I look at this I feel so disgusted pic.twitter.com/G2Y504zRUN

— Bareback Obama (@HolyShemar) August 18, 2015
I have some sort of feral, triple-intuitiveness that makes me know things as soon as I seen them.

— AZEALIA BANKS (@AZEALIABANKS) August 18, 2015
With regard to that last photo, the museum responded directly. "It is unfortunate that this visitor decided to behave so inappropriately and we apologise for any offence this has caused," the museum said in a statement released via Twitter. "We do have staff monitoring guest behaviour in the attraction and do our utmost to ensure our wax figures are treated respectfully, but on this occasion clearly one of of our hosts was not present." To prevent future mishaps, the museum has said it's reworking the attraction's display area (so similarly interactive pics can't be taken) and outfitting Wax Nicki's area with more staff.
Update: In an additional statement emailed to The Fader on Wednesday, the museum explained that Nicki's team definitely approved of the figure and its pose, as they were informed "every step of the way":
Nicki Minaj is an artist our visitors told us time and time again they wanted to see in the attraction, so we were thrilled to be able to add her figure to Madame Tussauds Las Vegas. We made the decision to celebrate Minaj's unforgettable pose inspired by the "Anaconda" video because — thanks to her artistry and charisma — it resulted as one of the most iconic videos ever produced. The pose itself recreates an image Minaj published on her own social media channels as a teaser for the video. As with all people we immortalize in our attractions, her representatives were kept informed every step of the way during the figure-creation process and, once it was unveiled, Minaj herself repeatedly expressed her love of the figure on social media, calling the display "so iconic" and indicating her desire to come see it in person. Since unveiling Minaj's figure and the "Anaconda"-inspired experience earlier this month, our visitors have responded with overwhelming positivity, and it has since become one of the most popular additions in the attraction.