Take the Quentin Tarantino Superfan Quiz
How much do you Taranti-know about the man and his work?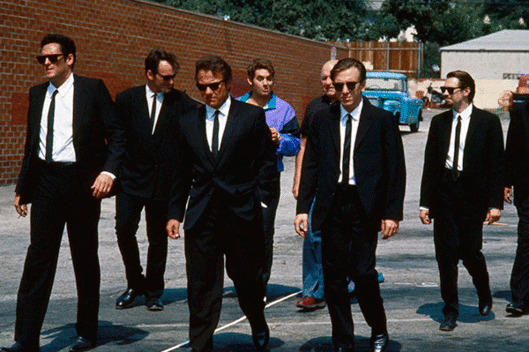 Quentin Tarantino is a filmmaker's filmmaker and a cinephile's cinephile — a pop-culture junkie who packs his movies with moments both familiar and unforgettable. Rife with minute details and pop-culture allusions that may initially elude moviegoers, Tarantino's films reward repeated viewings. Which raises the question: Have you seen them enough times? And have you adequately studied up on the man himself? Test your knowledge of the Tarantino-verse with this quiz — and don't hold your breath for "What do they call a Quarter-Pounder With Cheese in France?"
How Well Do You Know Quentin Tarantino?
What brand of cigarettes appears frequently in Tarantino's films?
Which ear does Mr. Blonde cut off?
Which movie has Tarantino called his worst?
What song plays during the lap-dance scene in Death Proof?
After Samuel L. Jackson, who has appeared in the most Tarantino films?
Which of the following did not appear on Tarantino's 2012 list of favorite films?
How many Oscars has Tarantino won?
How much does a milkshake cost in Pulp Fiction?
What film heavily inspired the plot of Reservoir Dogs?
Which is the only film Tarantino did not shoot in widescreen?
How many people does Brad Pitt's Aldo Raine kill in Inglourious Basterds?
Who wrote the Bride's "Revenge Theme" in Kill Bill?
The Kill Bill character Hattori Hanzo is named after a character from what TV show?
What do the card-playing white men use for currency in Django Unchained?
Who directed Nation's Pride, the film-within-a-film in Inglourious Basterds?
What was the working title of Inglourious Basterds?
How many languages are spoken in Inglourious Basterds?
Tarantino's original script for True Romance was originally part of the script for what movie?
According to Mia Wallace, everyone is a _____ or a _____.
Who won an Oscar for co-writing Pulp Fiction with Tarantino?
What school mascot is on Vincent Vega's T-shirt at the end of Pulp Fiction?
Who wrote the poem Stuntman Mike recites to earn his lap dance in Death Proof?
For which actor does Stuntman Mike say he doubled?
The miniature sets used on Kill Bill: Vol. I were leftovers from what film?
How many people does Bill kill onscreen in Kill Bill volumes 1 and 2?
Sonny Chiba, who portrays Hattori Hanzo in Kill Bill, is called "bar none, the greatest actor working in martial arts movies today" in what film?
The Directors Guild of America forbade Tarantino from directing an episode of what TV show?
Which Inglourious Basterds character is named after the director of the original Inglorious Bastards?
Who is Vincent Vega and Mia Wallace's waiter in Pulp Fiction?
Which film did Robert Rodriguez score?
All of Tarantino's screenplays (but not necessarily the eventual films) feature a character named what?
What cereal does Lance eat in Pulp Fiction?
Tarantino's production company is named after a film by what filmmaker?
What fake film title appears onscreen before the real title of Death Proof?
Which of the following jobs has Tarantino never had?
In Pulp Fiction, Vincent Vega and Mia do a dance from what movie?
Tarantino impersonated Elvis on what classic TV show?
Which three fingers does Lt. Hicox erroneously hold up in the bar in Inglourious Basterds?
Who sued Tarantino for assault in 1997?
In Django Unchained, what was the name of the wife who cut eyeholes in the bags for Big Daddy's group of masked raiders?
Tarantino is named after a character from what TV show?
To what band does Jackie Brown introduce Max Cherry?
Tarantino wrote the foreword for which book?
What is the sequence in which the Bride kills or otherwise incapacitates the members of the Deadly Viper Assassination Squad?
Tarantino is thanked in the liner notes for which album?
Who dubbed Christolph Waltz's dialogue for the German release of Inglourious Basterds?
Which movie has the fewest onscreen deaths?