Report: Azealia Banks Lost It Again, Insulted a Fan With Disturbing Comments via Instagram
Following the controversy over her anti-gay remarks.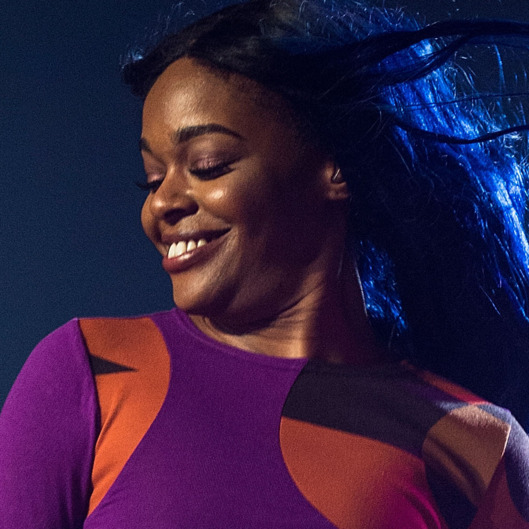 Not long after a video surfaced of Azealia Banks calling someone a "f*cking f*ggot," the rapper has taken to Instagram and Twitter to unleash another string of insults and to explain her motivation. On Friday, Banks had Instagrammed a quote that read: "Sometimes I just want someone to hug me and say 'I know it's hard. You're going to be okay. Here's a coffee. And 5 million dollars.'" Some have speculated that the upload was in response to backlash from last week's plane incident, as the caption for the photo read: "I have never felt the pain of not being white the way I've felt it since I've been a public figure/part of this entertainment industry." Soon after the pic was posted, one user, @a_sanctuary_found, commented: "Imagine the pain young gay fans feel when they hear the vile things you say."
Daily Mail captured screenshots of what appear to be Banks's responses — she evidently did not like the criticism. The most aggressive of her now deleted comments allegedly read:
"oh well imagine how I wanna spray a gay man in the face with pepper spray everytime he calls me a b*tch a slut or a hoe. Kiss my ass. Goodnight."
"Keep f*cking with me if you f*cking want to."
"One day your hemmroids are going to burst and you'll bleed to death b*tch."
"Yea keep trolling for d*ck on grindr. You'll be murdered and stuffed under a truck somewhere soon."
Late Sunday night, after her recent comments had time to marinate, Banks moved to Twitter to share more on the matter — again referencing last week's drama and not apologizing:
You guys gave me so much power this weekend!!!

— AZEALIABANKS (@AZEALIABANKS) September 28, 2015
All I had to do was say one word and I moved a whole community. What weaklings!!! 😂

— AZEALIABANKS (@AZEALIABANKS) September 28, 2015
If I am to be a part of an LGBT community I want to be in it with people who aren't so weak or so easily moved ya know.

— AZEALIABANKS (@AZEALIABANKS) September 28, 2015
Because all the time spent being mad at word could've been used to help people who really need the help!

— AZEALIABANKS (@AZEALIABANKS) September 28, 2015
I'm not a weak bitch, being called a dyke or a nigger does absolutely nothing to move me.

— AZEALIABANKS (@AZEALIABANKS) September 28, 2015
So yes! You CAN call me a nigger and I won't get mad! .... I'd be like "That's all you got???" 😂😂😂😂😂

— AZEALIABANKS (@AZEALIABANKS) September 28, 2015
You boys gotta toughen up!!! Don't be so weak !!! If one word can put your entire community in distress you're DOOMED. LOL

— AZEALIABANKS (@AZEALIABANKS) September 28, 2015
Words are not tangible things. You all CHOSE to get upset. Remember... Offense is only TAKEN, it is never given. 😇

— AZEALIABANKS (@AZEALIABANKS) September 28, 2015
Carry on .....

— AZEALIABANKS (@AZEALIABANKS) September 28, 2015