Can You Match the Acceptance-Speech Quote With the Emmy Winner?
Winners say the most indistinguishable things.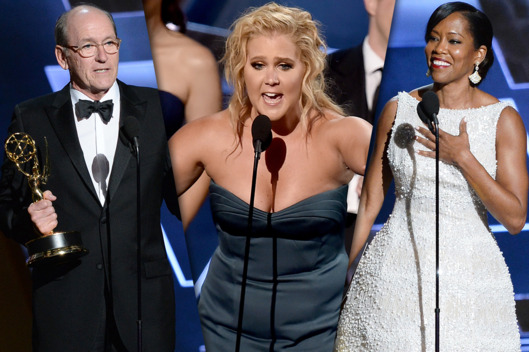 Another Emmys is in the history books. People won! People lost! But forget the losers: They didn't give speeches. Only the winners did. And what a night it was for memorable acceptance speeches: From Amy Schumer to Jon Hamm to Viola Davis to the very nervous guy who directed a Game of Thrones episode.
So we wanted to see just how memorable they were — by quizzing you! We're going to give you quotes from 15 speeches, and you are to name who speeched each one. The Academy has agreed to give anyone who gets them all correct an honorary Emmy*.
Who said this during their Emmys acceptance speech?
"What a great honor it must be for you to honor me tonight … Oh, wait. Oh, God. Oh, no, no. I'm so sorry. Donald Trump said that."
"All right. I wasn't prepared at all. I was even chewing gum."
"There has been a terrible mistake, clearly. Thank you for that."
"You cannot win an Emmy for roles that are simply not there."
"Thank you for inviting us into your dream."
"We're all here because of the power of a story well-told."
"Thank you so very much. You will never have to see me again. Thank you."
"I had a teacher who used to say, you know, when you act, you have to act as if your life depends on it."
"I love powerful, funny women. I love you gals so much."
"When people say they didn't plan things, I always thought they were full of shit."
"I promised the Goddess I would thank her."
"Thank you for being the wind under our sails."
"This show fights for what we believe in."
"I'm always off-book. Everyone who knows me and has worked with me knows that. This is an exception."
"I will never have an experience like this again."
*While supplies last. Oh! It appears they ran out of supply. How many were there in the first place, you ask? Oh! Sorry, we have to run to the HBO after-party, but we'll look into it**.

**Vulture will not look into it.