Let's Meet the 3 New Daily Show Correspondents
Ronny Chieng, Roy Wood Jr., and Desi Lydic.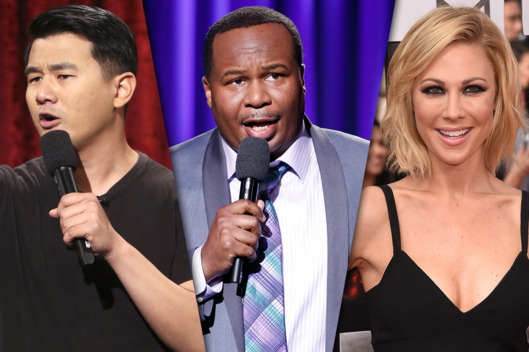 It's hiring season for our late-night comic institutions. Days after Saturday Night Live recruited stand-up Jon Rudnitsky as a featured player, The Daily Show has signed up three new correspondents of its own. (All of the current correspondents are keeping their jobs; there will be no de-Stewart-ization at TDS.) As Trevor Noah prepares to sit in the host's chair, let's get to know the three new hires! They are:
Ronny Chieng, a Malaysian-born stand-up comic who currently resides in Australia. He won Best Newcomer at the Melbourne International Comedy Festival in 2012, is a regular at the Edinburgh Fringe and Montreal Just for Laughs festivals, and has opened for Dave Chappelle and Bill Burr during their Australian tour stops. Here's a highlight from Chieng's appearance at MICF last year, about Kanye West's "Bound 2":
Roy Wood Jr., a veteran actor, stand-up, and radio personality. He came in seventh in the 2010 season of Last Comic Standing, and was a regular on TBS's Sullivan and Son. He's also released three albums of prank-call comedy. As a comic, Wood's made multiple late-night stops on Conan, including this bit from 2014 on why Captain America is the most progressive superhero:
Desi Lydic, an actress you may recall from Awkward., where she plays crazed guidance counselor Valerie Marks. Lydic has also appeared in in The Client List, The League, and We Bought a Zoo, and was once interviewed on Fox and Friends. As a loyal Viacom soldier, she once made a Valerie Marks advice-column web series:
It is unknown whether Chieng, Wood, or Lydic have any bad tweets.