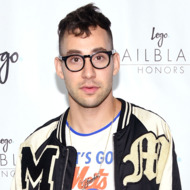 Not to be outdone by Ryan Adams's take on Taylor Swift's 1989, Jack Antonoff has reinterpreted an album … of his own. Today the fun. member (and 1989 songwriter/producer) has rereleased his 2014 '80s-tinged debut as Bleachers, titled Strange Desire — only now it's sung entirely by women he credits as being essential to his songwriting. The women featured on the album, which he's calling Terrible Thrills Vol. 2, loosely span the pop spectrum, ranging from newcomers (Tinashe, Elle King, recent tour mate Charli XCX) to seasoned stars (Sia, the Dixie Chicks' Natalie Maines, the Bangles' Susanna Hoffs). "All of these women inspire me to write music," Antonoff tells Vulture. "It's a combination of women I've worked with and people I'm a fan of. A chapter of my childhood is 'Eternal Flame.' Literally, when I hear that song, every memory of growing up rushes back to me. And the Dixie Chicks I go back to all the time, specifically a song like 'Easy Silence.'"
Antonoff first got the idea for a lady-led companion album five years ago when he arranged Terrible Thrills Vol. 1, based on his former band Steel Train's third album; his intention was always to make it an ongoing series. "It's something I hoped could be a thread of the albums I make," he says. "I hear the songs I write in the female voice before I shift it and do it in my voice. This record, in a weird way, is how it sounds in my head."
As the demand for his songwriting has increased (Sara Bareilles's hit "Brave," album cuts for Carly Rae Jepsen and Tegan and Sara), so has Antonoff's curiosity to hear his own songs reinvented by his female collaborators. He spent more than a year working both closely and from a distance with the women he recruited to cover Bleachers, with each bringing out some new facet of his music he wasn't expecting.
"I couldn't really imagine anyone singing 'I Wanna Get Better' because the lyrics are so intense and personal. It kind of grossed me out imagining anyone doing it," he says. "But for some reason, I really loved the idea of hearing it through Tinashe because her voice and mine could not be more different. And there's a real genre shift there, so it excited me."
For each song, Antonoff had a woman in mind to cover it, one being the legendary Joni Mitchell. Unfortunately, he says, "she's kind of tough to reach." Another name surprisingly absent from the covers album is his highest-profile collaborator to date, Taylor Swift, with whom he co-wrote three songs off 1989 (including synth-y departure "Out of the Woods) and 2013 soundtrack one-off "Sweeter Than Fiction." "Taylor and I have done a lot of great work together, and it feels well represented," Antonoff says. "I wanted this to be something I'd never done before."
Terrible Thrills Vol. 2 is available for free download on Google Play, a decision Antonoff made because "an elaborate project about how I hear things through other artists' voices is something I really want people to hear, but not something I want to ask them to pay for." (You can also stream the album via YouTube.) Antonoff is currently in the studio working on Bleachers' sophomore album.