Judd Apatow Will Direct Pete Holmes's HBO Pilot Crashing
Better than <em>The</em> <em>Eel-lusionist</em>.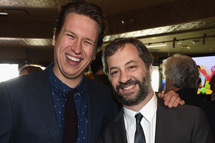 In a sketch for The Pete Holmes Show, Pete Holmes tries pitching a bunch of story ideas to Judd Apatow (like an eel magician called The Eel-lusionist), including one about how he became sad and broken after his wife left him. Well, that sadness will finally become art! Deadline reports that HBO has given the green light to Crashing, written by and starring Holmes and directed by Apatow. The show follows Holmes around New York City as he crashes on the couches of his famous funny friends after his wife leaves him. This will be the first pilot directed by Apatow, but he'll definitely make heartbreaking loneliness seem super-accessible.