Mapping the Wild Mind of Deerhunter's Bradford Cox
From the Quilts of Gee's Bend to Pharoah Sanders.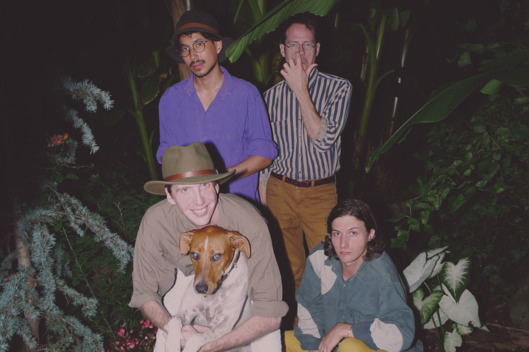 Bradford Cox dreamed up this hand-drawn concept map in advance of Deerhunter's Fading Frontier's October 16 release, but it wouldn't be fair to call it a sonic analogue to his band's strong seventh album. "When I made a concept map, I felt like I wanted to acknowledge the specific things that were influencing me at the time, but it can easily be mistaken as saying these are the things that influenced this collection of songs, which is completely not true," says the prolific Atlanta musician behind the bands Deerhunter and Atlas Sound. Rather, this web of interlocking themes reflects the omnivorous quality of Cox's creative mind, and how inspiration can come from anywhere, even when you're "off the grid" and "out of range," as he croons on the album's darkly romantic second song, "I'm Living My Life."

These influences' wide-ranging quality make sense given Deerhunter's commitment to evolution over the last ten-plus years, during which time Cox and his cohorts have explored various makes and models of rock and roll. It's one of the things listeners enjoy most about Deerhunter — their ability to out-weird themselves in new ways. While 2013's Monomania sounded at times like it was recorded in a musty suburban garage (an essential place of worship for rock's disenfranchised youth), Fading Frontier — with its echoing whizzes and whirs — gives the sense that it could have been recorded on a space station. Here, we peel back the layers of Cox's brain, having him elaborate on five concepts from the interactive map below, which is exclusive to Vulture.

:

Laurie Spiegel, Pioneering Electronic Musician and Composer
"I just find her to be so engaging, so unpretentious. Of course the main reasons she's on here is her music, which I've been listening to for quite some time. I first heard a CD that I got used at a thrift store. The concept was her making music on old instruments. I didn't get exposed to her most-recognized work at first; it wasn't The Expanding Universe. She was making music for antiquated electronic instruments, like the Buchla synthesizer. She was making it in the '90s, when computer music was becoming of relevance, so she went and made a record of antiquated electronic instruments. This was, of course, before the ebb and flow of nostalgia. Now you can't help but listen to those records and think, If I just had that Odyssey synthesizer, I could be Brian Eno! I bought one, and it's on the new record. I put the Odyssey synthesizer on the concept map, too, even though I kind of resent it. I resent nostalgia. Why didn't I use a synthesizer that just came out, you know? Why not use something of my own time? Why do I need this exhausted aesthetic? Because it reminds me of things that have already come and gone. It's very precious. It's just silliness, just materialism. There are ten ways to get the same sine-wave sound, but how you choose to get those sounds has a lot to do with aesthetics and posturing."

Japanese Ceramics Broken and Repaired With Gold, the Tradition Known as Kintsukuroi
"I don't actually own anything like this — I'm only interested in the concept. This is a tradition that goes back centuries in Japan. I'm not fetishizing the object, I'm fetishizing the very idea that damage could be considered an asset. I'm not actually interested in going on eBay and spending $3,000 on a broken vessel mended in gold enamel. In that way, all art is object fetishism. When I talk about object fetishism, I'm talking about this need to own a vinyl collection in order to prove your taste in music. I've got right to 10,000 records in my possession. Seventy-five percent of those records are probably garbage, like a collection of Argentinian protest songs that is scratched down the middle because I bought it at Goodwill. I only bought it because I was interested in hearing the music on it. If it was on the CD, I would have bought the CD. It just happened to be on a record. The low-budget, dollar-rack records you can get at Goodwill for 75 cents — the records people are giving away — those are the records I'm interested in."

The Quilts of Gee's Bend
"My friend Bill Arnett is the owner of most of these quilts. He's the founder of the Souls Grown Deep Foundation. He's a rather controversial figure, a really misunderstood person, and I can assure you from personal experience, any attack on him, I take very personally. All he believes in is art. Period. And I don't think that there's much to criticize in that. There are so many people who criticize. To exploit anyone, to me, is nauseating. But I've never met a man who's so quick to correct you if you say the words folk art, or even worse, outsider art. He doesn't believe in that. He believes in art. He believes these people should be treated with the respect of Claude Monet. Self-taught is now becoming a popular word, but honestly, it's all just art. When I look at Lonnie [Holley's] art, when I look at the art he makes out of something out of my backyard, I just nod my head and realize that here's a guy with vision, which is not something you can transfer or teach. You can teach people how to see art, or you can try to. You can teach people the technical aspects of art, but you cannot teach people vision. That comes from experience."

Pharoah Sanders, the Avant-Garde Jazz Musician
"I listed him there because Moses [Archuleta, drummer/keyboardist of Deerhunter] and I, before we started recording this album, had a very nice night, which is very rare — it's hard to get together when you're older. Pharoah Sanders headlined the Atlanta Jazz Festival this year at Piedmont Park, which is right around the corner from my house. We went, it was free, we walked right up to the very front of the stage, and we were surrounded by an audience that was 99 percent African-American, which — obviously, I'm white, so it's sort of pathetic to hear me say this — but I found that to be really awesome, to see Pharoah Sanders appreciated by a predominantly black audience, because if you want to know what I expected, I expected it to be a bunch of white, music record-collector geeks. He's been playing shows at [hip Williamsburg venue] Baby's All Right, you know? I'm not talking about a young black audience of hyperleftist intellectual types. I'm taking about a common audience, a huge audience of black families. Thousands of people. It's not what I expected. Pharoah Sanders plays esoteric music. You can take the racial part out of the question. It's about middle-of-the-road, average, everyday families, sitting there listening to an avant-garde musician and not leaving — and enjoying it. Little kids were running around. Not record-collector, white object-fetishists. It felt like a very nonexploitative situation to witness."

The Decline of the Music Industry
"The music industry is a giant shrieking ghost. It means nothing. It never meant much. It's just an appalling apparition. It has no vitality. How can you expect much from someone who thinks only of profit? They're simple creatures. I might sound so arrogant. I'm not a socialist in any dogmatic way. I don't believe that I have the answer. I think [indie-film pioneer] John Cassavetes had the best answer for the creation and distribution of art: Pay for it yourself, do it yourself."