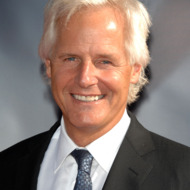 What's in a name? To X-Files creator Chris Carter, that's a loaded question. Fans are calling the show's six-episode January return all sorts of things: reboot, revival, miniseries. None of those seems accurate, Carter said Saturday during the show's EW Fest panel with veteran X-Files writers (and brothers) Glen Morgan and Darin Morgan. "'Reboot'sounds cheesy. I don't like any of those words," Carter said. "I call it 'programming by feather duster.' If you've liked this before, you'll like it again. I think none of us wanted to come back if it wasn't something new or original or updated. … I didn't want to come back for a victory lap."
This meant getting the band back together. Or, most of the band. Many of the show's original writers have become showrunners. As Glen Morgan, who came back for the new, er, reboot, noted with a laugh, "Initially, we had Vince [Gilligan] and Frank [Spotnitz] and Howard [Gordon], and I guess we were the only losers who didn't have anything else to do." (Gilligan's busy with season two of Better Call Saul, Spotnitz is working on Amazon's The Man in the High Castle, and Gordon's on Homeland, which he co-created.)
Darin Morgan, the man responsible for writing many of the show's more lighthearted episodes, including "Humbug," returned for a different reason: He wanted to be left alone. "I thought executives would have a hands-off approach, because who are they to tell us how to do a show that we already did," he told moderator Jeff Jensen. "The executives left us alone, and we only have ourselves to blame if no one likes it. Also, the artistic reason [to return] was I always had a story that I wanted to tell that was about a monster, but also had a human life story angle. And The X-Files is the only place that you can tell that story." That new episode, "Mulder and Scully Meet the Were-Monster," exists in the same silly vein as his episode (and fan favorite) "Jose Chung's From Outer Space." Darin Morgan also reminisced about playing the "Flukeman" character: "It was an ordeal but I was out of work at the time, so I was happy to have a job. That costume was supported from my head, and when it got wet in the sewers it weighed like 100 pounds."
Back to Jose Chung: The season three episode almost had a different guest star. "I remember instead of Alex Trebek, Darin Morgan wanted to cast Salman Rushdie," Carter said. "That was back when he was still in deep hiding," Darin Morgan said. When asked if they reached out to Rushdie, Carter laughed. "No, I didn't want that fatwa on me."
Carter also joked about wearing a bulletproof vest to the event in case any 'shippers were in attendance, and offered up this tidbit on the now-fractured Mulder-Scully partnership: "We are dealing with two people who had a relationship who are no longer together. And for reasons we come to relearn over the course of the [new] pilot, we see the reigniting of old passions that each of them have. We see them come back together for non-romantic reasons."
An audience member pointed out that David Duchovny recently said that Mulder and Scully were married, an idea Carter seemed to think was a conspiracy: "They were together, but never married, so that was news to me," he said. "I mean, you saw them in the second movie, they were obviously together and under one roof. I'm here to announce that that is not the case coming back."
Despite the long break since the series finale, the writers remain decidedly old school. They don't have a traditional writers' room. In fact, they came up with new ideas in Glen Morgan's backyard with a bulletin board. He explained their process: "In a writers' room for comedy, they typically pitch jokes to each other and write them down. Even now [for this series] we met in my backyard with a bulletin board, and said, Okay, now this is what we're doing." Carter also said they use a series of note cards, broken down into four acts, and look for what they call "boos" — as in, moments that'll scare the pants off viewers.
Another question prodded about the number of female writers on staff. (There have only been a few.) After the group started naming off a few female writers, Darin Morgan said: "The thing to me, it wasn't so much a man-woman [ratio], but we had a female writer, Sara, who was the only one of us who was a true believer in supernatural stuff, and in a weird way I think it hindered her. It was more like that it wasn't a female perspective that was different, it was more about the paranormal thing. I don't think that there's a difference between men and women about [believing in] UFOs."
Chris Carter elaborated that it was never gender they were looking at, but talent: "Sometimes there's that sense that there's some discrimination, but that's just not the case. You're so desperate to find someone who can write the show, it doesn't matter if they're men, women, or transsexual. You're so desperate to find someone who can write the show well that you will hire anyone."
Someone else asked how Carter & Co. managed to create doctor, skeptic, and feminist icon Dana Scully, and he was quick to give credit to his secret weapon, Gillian Anderson. "By a stroke of luck I cast her and she was 24 at the time. She had that seriousness, that gravity. I didn't know how good of an actress she was or about her chemistry with David. That was a miracle. I didn't know what she would bring beyond that but she had so many good ideas for the character. Gillian is as responsible for the creation of that character than any of the writers."
And perhaps the L.A.-based writers' trip to New York will offer inspiration for future episodes. Referencing "Home," the creepiest episode of the series, which he co-wrote with writing partner James Wong, Glen Morgan pointed out: "The Peacock family from 'Home' is in no way as creepy as the Statue of Liberties over in Times Square." Stay tuned.