Moviegoers, Aware They Were in for a Scare, Flocked to Goosebumps This Weekend
The Jack Black&ndash;starring adaptation of R.L. Stine's iconic book series easily beat Guillermo del Toro's gothic horror romance <em>Crimson Peak</em> this weekend.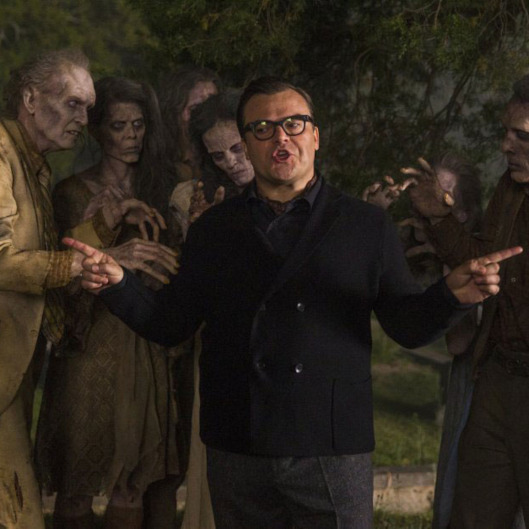 People of a certain age probably remember being beguiled by those gaudy gross Goosebumps book covers at Scholastic book fairs in elementary school — the raised lettering, the monstrous pets going berserk, the skeletons taking family portraits. People of a slightly older age probably remember their kids coming home with those gaudy gross Goosebumps books, devoid of what teachers call "literary worth" but rife with monsters and maniacs and twist endings that would make O. Henry giggle with glee. Apparently R.L. Stine's series is still beloved, as its cinematic adaptation, starring Jack Black as fictitious imagining of the author, scared $23.5 million out of audiences, taking the top spot at the box office this weekend. Among the big names Goosebumps trumped: Steven Spielberg, Guillermo del Toro, Matt Damon, and Adam Sandler.
The Martian landed in a close second place with $21.5 million, making its domestic cume $143.7 million, while Spielberg's newest film, the Tom Hanks–led Cold War thriller Bridge of Spies, stole $15.3 million and is projected to slowly grow in reputation over time (kind of like how the film slowly ... never mind). Guillermo del Toro's Crimson Peak, more of a Gothic romance pervaded by ghosts than a ghost movie, disappointed with $12.8. million. Meanwhile, Adam Sandler's Hotel Transylvania 2 keeps its fangs embedded in moviegoers with a $12.2 million bite, earning $136.4 million so far. Pan, the much-maligned Peter Pan origin story that features Hugh Jackman as a pirate singing Nirvana, is basically dead in the water, adding a paltry $5.8 million for a total of $25.7 million. On the indie side, Room, which showcases an acclaimed turn from Brie Larson, made $120,000 on four screens, while Hou Hsiao-Hsien's ineffably beautiful art-house drama The Assassin made $48,200 on two screens.