Jeff Goldblum Circumcised James Franco ... for Charity, of Course
And Franco's foreskin is actually Zac Efron. Who knew?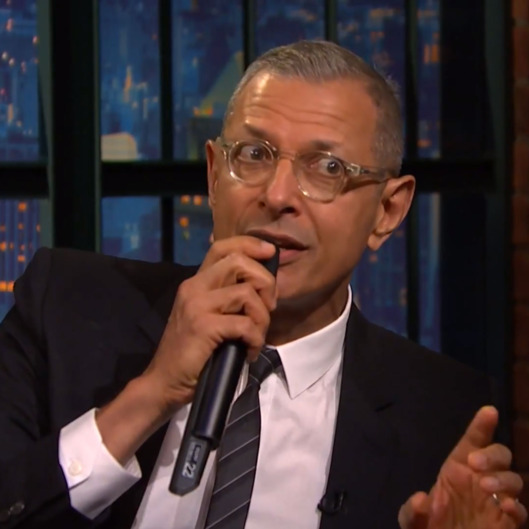 James Franco may have already had his belated bar mitzvah, performed by a "real" rabbi, but the party don't start until "Rabbi" Jeff Goldblum walks in and performs a circumcision. Franco & Co. had a second round of ceremonies this weekend, hosted by Franco's BFF Seth Rogen at the Hollywood Palladium. It was comprised of visits from celebrity pals such as Miley Cyrus, Bill Hader, Maria Shriver, and Jewish rock band HAIM to celebrate as Rabbi Goldblum solidified Franco's transition into manhood by performing a mock circumcision. Don't worry, Franco's foreskin was allowed to say its final farewells before the snipping began. Played by Zac Efron in a prerecorded video, Franco's (cough, cough) male prepuce requested to be buried in Bungalow 3 at the Chateau Marmont (notoriously known for the place where actor and comedian John Belushi was found dead after a drug overdose), but not before thanking the actor for always having his back when the ladies dubbed him gross, and bidding adieu to his testicular neighbors Gary and Bob.
This was part of the fourth annual Hilarity for Charity Variety Show, a charitable event organized by Rogen and his wife, Lauren, with all proceeds going toward Alzheimer's research (the event raised more than $2.5 million benefiting the Alzheimer's Association). It streamed live on go90, in partnership with Funny or Die. Welcome to manhood, Franco. Mazel tov.