The Owners of the Real House The Conjuring Is Based on Are Suing Warner Bros.
"Can you imagine the horror of trying to sell this house?"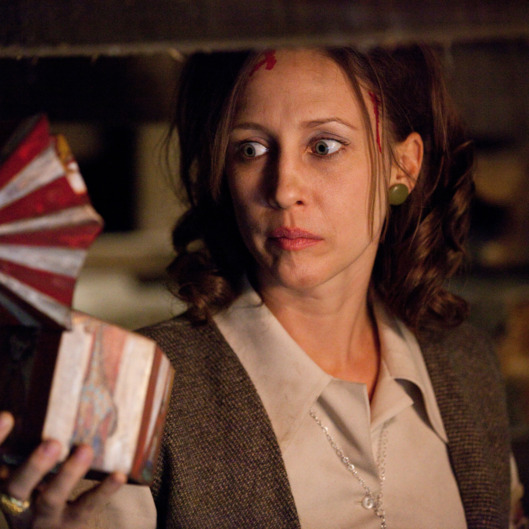 Maybe you've long since forgotten about 2013's The Conjuring, but the film has haunted Harrisville, Rhode Island, residents Norma Sutcliffe and Gerry Helfrich ever since its release, according to reports. The couple claims their property has been flooded with fans and unwanted visitors trespassing for a closer look at their house and its history, both of which served as the basis for James Wan's horror movie. As a result, Sutcliffe and Helfrich are filing a lawsuit against Warner Bros. because they argue The Conjuring did a poor job protecting them and their address, pointing to thinly veiled based-on-a-true-story messages bookending the flick. "I've had fences broken down and had people try to break in ... I fear the worst every single day," Sutcliffe told the Boston Globe. "It won't end. It's like Amityville ... Can you imagine the horror of trying to sell this house?"
The Conjuring's story sprang from supernatural accounts Carolyn Perron, the home's previous owner, told real-life ghost hunters Ed and Lorraine Warren in the early '70s. Those were the same tales adapted into the film, for which Lorraine served as a consultant. But Sutcliffe has told the media (on more than one occasion) that the ghost stories are fake, and that she was never aware the ensuing project would explode as much as it did. (It raked in more than $300 million worldwide, according to Box Office Mojo, and a sequel is in the works.) Since their privacy has been compromised, Sutcliffe has erected "No Trespassing" signs and installed motion-detection alarms to no avail. The home owners reportedly request unspecified damages, a security system, and a security plan to remedy their problems. A rep for Warner Bros. told the Globe they have yet to see the suit, so they have no comment.
For more, you can watch the home owners' full interview, via WHDH, here.