8 Best Songs of the Week
The flip phone that broke the internet.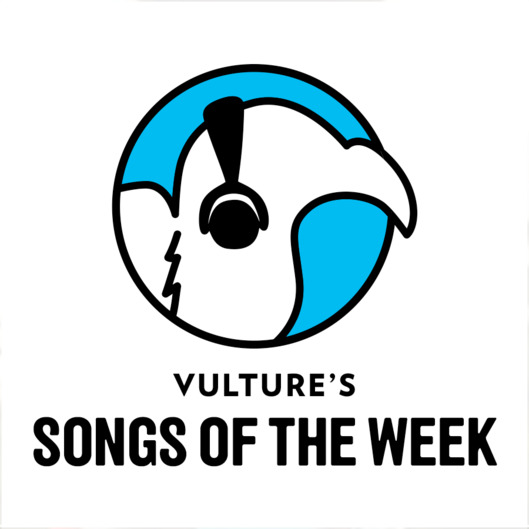 Every week, members of the Vulture staff highlight the best new music of 2015. If the song is worthy of your ears and attention, you will find it here. Read our picks below, share yours in the comments, and subscribe to the Vulture 2015 Playlist for a comprehensive guide to the year's best music.
Adele, "Hello"
A back-to-basics triumph that will hopefully remind producers and artists everywhere that Auto-Tune will never be a prerequisite for making good music. —Lauretta Charlton (@laurettaland) 
Kane Brown, "Used to Love You Sober"
When you think of straight, country swagger, you'll imagine a deep voice like Brown's, but you'll be hella surprised when he starts crooning the chorus on "Used to Love You Sober." Brown basically pulls a Drake, vacillating between two styles of music in one song — and it works. (And he gets bonus points for the Beyoncé reference.) —Ira Madison III (@ira)
Chance the Rapper feat. Saba, "Angels"
There's something contagious about Chance's positivity. You get the sense that, even if he has his bad days, they don't burden for him too long. On his latest free single, "Angels" — debuted with a boisterous, footwork-featuring performance on Colbert — he's again tired of your shock at all he's accomplished at 22, while completely independent. He casually drops references to OVO, Chief Keef, and rap beefs, all to stoke a fire he'll never have to start. But even he knows it's fun to tell his city these campfire stories if it means giving them hope when no one else will. More than two years after Acid Rap, and Chance remains hip-hop's most important figure. —Dee Lockett (@Dee_Lockett)
Matt Kivel, "Janus"
Matt Kivel has one of those voices, a ringing instrument so pretty that it almost seems suspicious, a little broken in its beauty. In his previous songs, Kivel has sometimes backgrounded that voice, treating it like a jewel within knotty acoustic latticework, or else used it as the point of the spear when the music got a bit more rambunctious. But on the title track from his third album, Janus, he and Drag City producer Alasdair Roberts force his vocals right to the front of the delicate mix, highlighting the chorus's heady descent and Kivel's evocative writing. ("She wore the scent of magnolia.") With its duality and shaded emotion, "Janus" calls to mind the melancholic ecstasy of worship, or the strange pleasure within a hangover. But it's also just a damn nice thing to listen to. —Kevin Lincoln (@KTLincoln)
LÉON, "Treasure"
This talented Swedish newbie whose voice rivals Ella Henderson's is taking Spotify by storm. She's already racked up more than 2.5 million streams of her very first single, "Tired of Talking." Equally infectious is "Treasure," an up-tempo, dreamy jam that rounds out a solid debut EP. —Eric King (@erickingdavid)
Snakehips feat. Tinashe and Chance the Rapper, "All My Friends"
Snakehips are a pair of British producers you've likely never heard of, but you won't be able to forget them after hearing this song. To create one of my favorite songs of 2015, they called up Tinashe and Chance the Rapper to lament their generation's incurable lethargy. Like Alessia Cara before them, Tinashe and Chance aren't just harping on loneliness; they're more anxious about being stuck in rooms full of people going with the motions — drinking and smoking just to pass the time — and getting sucked into the vacuum of addiction. "All my friends are wasted / And I hate this club, man, I drink too much / Another Friday night I wasted," Tinashe sings on the song's bleak but genuinely anthemic chorus. Chance diagnoses his generation the best: "We reinvent the wheel just to fall asleep at it." —DL
Ty Dolla $ign feat. Babyface, "Solid"
Ty Dolla $ign, a.k.a. hip-hop's go-to songwriter/background vocalist, has had a weird start to his career. From Kanye and Wiz Khalifa's muse to seemingly never-sober creep, there's no telling where he's headed. His debut album drops next month, and it's a mixed bag of features from Kendrick Lamar to Jagged Edge (!). Another one of those random guest appearances includes songwriting legend Babyface, making for the latest unpredictable showing from the Cali kid. You might know Ty for his club hits ("Paranoid," "Blasé"), but a lot of his soul gets chewed up by all that overproduction. Here he's simply joined by Babyface on acoustic guitar for a bluesy jam session that has him sounding smitten with the California sun. Not much makes me miss L.A., but this almost does the trick. —DL
Carrie Underwood, "Relapse"
Underwood's new album dropped on the same day Adele decided she wanted to snatch everyone's wigs with "Hello." But let me tell you, this is her best since 2007's Carnival Ride. Storyteller is full of instant classics, but none are better than "Relapse," the spooky ode to love gone wrong. Calling out a lover that she can't quit like Jack Twist, Underwood's vocals soar while packing one helluva emotional punch. —IM