YACHT Made Us the Ultimate NYC vs. L.A. Playlist
I see your Patti Smith anthem and raise you a Fleetwood Mac tune.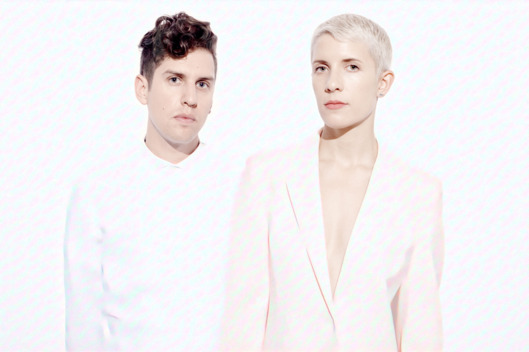 New York versus L.A.: It's the eternal debate, one in which the answer lies not only in what you can tolerate, but what drives you to do exactly that. Subways covered in a thin layer of filth versus standstill traffic all day, every day; the man-made marvels lining the skyline versus nature's most iconic coastline; Pizza Rat versus Mickey Mouse. When it comes to the rivalry between New York and YACHT's adopted hometown of Los Angeles, the electro-pop duo doesn't shy away on its recently released sixth album, I Thought the Future Would Be Cooler. But in member Claire L. Evans's eyes, "it's sort of apples and oranges. I've never really liked pitting them against one another because it's just so different. In New York you can't avoid being in the mix with all the different people on the ground, whereas in Los Angeles you can be a bit of a hermit. You can be isolated to your neighborhood, you can be apart from things."
With this contrast in mind, YACHT created an era- and genre-spanning playlist for Vulture that encapsulates each city as two separate halves of a whole. They toast to the delights offered by both before switching to a less glamorous side, like backwashed warm beer imbibed at either city's crustiest dive bar. "The L.A. songs come more naturally to us than the New York songs, but there's nothing on there that I didn't already love," Evans says. (Two crucial California entries initially on this playlist are unavailable via Spotify, however: Michael Nesmith's "Cruisin'" and Neil Young's "L.A.")
YACHT have never held their enchantment with L.A. close to their chests, shouting it from the Hollywood Hills via song lyrics (like in "L.A. Plays Itself" off the new album) and interviews in which they position the city as a utopia of sorts. Of course, they're aware that not everyone agrees. "There's a whole other layer of the outside world's perspective and perception of Los Angeles," says Jona Bechtolt, YACHT's other half. But, as Evans says, "I can't imagine living anywhere else. For us, New York is a city where we never feel entirely like we're convincing anybody that we belong there."
In addition to 2015 marking the fourth anniversary of Evans and Bechtolt's move from Portland to L.A., this year heralds their first album in as much time. To follow up 2011's Shangri-La, they explore the dystopian reality of the present through radical pop on I Thought the Future Would Be Cooler. The outcome is as catchy as it is offbeat, pairing thumping rhythms with punk vocals and vocoder experimentation.
The rollout for I Thought the Future Would Be Cooler has stayed true to the band's history of turning album releases into full-fledged art projects. Essentially, they're project-driven people who don't do well with too much spare time; their current mission statement is — no joke — "to battle against entropy." "We like to take an idea and see how far it can go," Bechtolt says. Drones recording billboards, facsimiles sent to nearby FedEx locations, hacks into Uber's public API for surge-pricing data: These aren't the latest NSA leaks, but rather, the ways in which YACHT has promoted the new album. (Another timely tactic: releasing a video for the LP's future-themed title track last week on Back to the Future Day.)
"Everything that we do as artists competes equally out there in the world of clicks and headlines with everything else," Evans says. "We can make a project enter the feed alongside the Syrian refugee crisis, pop stars arguing with billion-dollar corporations, memes, and a turtle humping a Croc sandal. When we create projects, we're sort of trying to speak in the language of the moment."