Chris Hemsworth's Huntsman Movie Gets Terrible New Title
It's now called <em>The Huntsman: Winter's War</em>.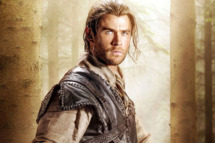 The movie formerly known as The Huntsman is now The Huntsman: Winter's War! The Snow White and the Huntsman spinoff's new title, which reads like a parody of contemporary trends in blockbuster movie titling, refers to the conflict between Chris Hemsworth's Huntsman and his sister (Emily Blunt), a reclusive ice queen with the power to freeze anyone who says this plot seems remarkably similar to Frozen. In other news, former Utah governor Jon Huntsman will remain Jon Huntsman.