100 Women Directors: Actors, Producers, and Twitter Users Suggest Even More Names
We asked celebrities like Sarah Jessica Parker, Tyler Perry, and Sarah Paulson to give us their picks.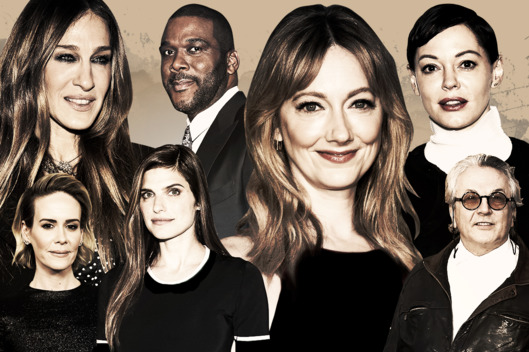 As we said in the introduction to our 100 women directors list, the hardest thing about assembling it was picking so few when there are hundreds more great filmmakers worthy of inclusion. (Just ask Destri Martino, whose invaluable site the Director List includes over 1,000 women directors in its searchable database.) To highlight some additional ones, we've spent the last few weeks asking Hollywood figures like Sarah Jessica Parker, Tyler Perry, and Sarah Paulson to tell us about the female filmmakers they love. The women they picked ranged from well-known veterans to up-and-coming first-timers to women who've never directed a feature before, but should. You'll find their testimonials below, as well as a few dozen extra names suggested yesterday by Twitter users.
Lake Bell, actress and director: "Kimberly Peirce, for one, and Catherine Hardwicke. Those are the kind of ladies that inspire me; I feel very proud to call them my friends. They work incredibly hard, their brand of art and the things that they're interested in and their interests aren't relegated just to female content or female-driven content, which speaks to their tremendous versatility."
Tyler Perry, actor-director-mogul: "Ava DuVernay is definitely getting her say and having her moment right now. I'll tell you, her subtlety and nuance and the way she tells a story and paints a picture, it's really incredible. Tina Chism is another one that I've supported; they're amazing. I want to watch their rise and watch them go higher and higher and higher."
Patricia Clarkson, actress: "I have so many! Let's start with Isabel Coixet and Ruba Nadda and Lisa Cholodenko, and I'm going to leave it at that because I worship those three women. They get it. They get you on a cellular level, and it's organic and it's lovely and they're remarkable people. They happen to be great directors because they've lived and they've loved and they have lives. And they bring that to the table, and that's my favorite part of them."
Paris Barclay, president of the Directors Guild of America: "Betty Thomas and Lesli Linka Glatter are my two personal favorites. But in the up-and-coming, hot-to-trot and ready-to-go category, Dee Rees is amazing. I love her, I think she's gonna be huge. I love Jamie Babbit, I think she's a director who is just starting to break through in general. I love Ava DuVernay, of course. I think Selma was just a triumph. I think Catherine Hardwicke should be doing a movie every year. I think her early film work shows what she could be doing, and I think Hollywood needs to grab a hold of her and give her work all the time."
Zoe Kazan, actress and writer: "I would like to defend Sofia Coppola in this conversation. I think some of her more tone-poem pieces, like Marie Antoinette — which I love — are sort of dismissed in the media a little bit as being like a catalogue, or a long music video. There's something particularly feminine about her viewpoint, that she is storytelling by showing images. I don't think her interest in the material is an extension of her being a materialistic person — she's really couching her vision in the things that we deal with on a day-to-day basis. Obviously, I don't have a life like Marie Antoinette's, but the way that she thinks about clothes and about food means something. Even a film like The Bling Ring, which is less to my taste, was also very interesting because of the cinematic vocabulary that it was taking on. I don't know why she's not taken more seriously. She's a very serious filmmaker."
George Miller, director: "Well, there's Kathryn Bigelow, of course. Also Jennifer Kent, who did The Babadook, which I loved. It had an eye and a very individual take on things. I can't wait to see what she's doing next."
Donna Gigliotti, producer: "A woman I like a lot is Gina Prince-Bythewood, who is a very good director with a very specific view of the world. Lisa Cholodenko, her movies are awesome, she did The Kids Are All Right and she just did Olive Kitteridge for HBO, which I thought was beautiful; it's subtle, it's sensitive. And those two women, I happen to know, play well with others — they're good people who don't take years off your life. That's part of the résumé, right?"
Emily Mortimer, actress: "Nicole Holofcener! She made a film called Lovely and Amazing that I'm in, but she's made many brilliant films. And then there's a Spanish filmmaker called Isabel Coixet. Nicole's a very well-respected filmmaker here, and both of them are very established filmmakers who made wonderful movies, but they're just the women that I know and think are great and can do anything."
Anna Martemucci, director: "Catherine Hardwicke and Rose McGowan. One of them is an established powerhouse who was treated horribly, she's responsible for the Twilight situation. A lot of people don't know that was her from the beginning — she's the one who said, 'This book is going to be huge,' and started the idea of it being a movie. The other one is more of a new voice who's blowing out the scene with her short called Dawn. It's really beautiful."
Rose McGowan, actress and director: "Sian Heder, who I feel is responsible for Orange Is the New Black. She's one of the five writers, she just made her first feature with Ellen Page and Allison Janney and I feel like she's coming up huge. She's got a real serious voice. She's brilliant."
Judy Greer, actress: "Jamie Babbit. I've worked with her a bunch of times. She does TV and film. She directed But I'm a Cheerleader. She was the director-producer of my TV show Married. She did the last film I did, Addicted to Fresno. I love her because she's very commanding on set but is also extremely maternal with her actors. I really like that, that she's really good at keeping the crew working and motivated but she doesn't yell at us too much, and sometimes we really deserve it."
Pamela Koffler, producer: "Kasi Lemmons. I like her movies, she's super smart, she's great with actors, she's a very soulful, sensitive person, and she's just good at the job. Gets it done."
Christine Baranski, actress: "I'm beginning to think that a lot of our great actresses should now become directors. As roles become less scarce, I think there are so many brilliant actresses, Meryl Streep being one of them, Emma Thompson, a lot of wonderful, intelligent women could actually helm an entire movie at this point and join the ranks of working women directors."
Alfonso Gomez-Rejon, director: "There's a director that I love, Andrea Arnold, who directed a movie called Fish Tank that is unbelievable and just did a new movie that I can't wait to see. And Reed Morano, who's a cinematographer who does really brilliant work, just directed a film and I can't wait to see it."
Bryce Dallas Howard, actress: "My favorite is an incredible indie filmmaker named Marianna Palka. She wrote, directed, produced, and starred in a wonderful movie called Good Dick years ago, and she just did a film recently called Worthy that won the audience award at a few different festivals. She's just a marvelous Scottish filmmaker and I have a lot of respect for her."
Sarah Jessica Parker, actress: "I've worked with a lot of female directors, and I'd always try to have them come back. We're about to have at least two women shoot the new series, Beth McCarthy-Miller and Jamie Babbit, so we're very excited. I always want to work with good directors, and I'm especially thrilled when they happen to be women, because I know that there's a big discrepancy. I've had great experiences working with them, both in the theater and in film."
Janet Pierson, head of SXSW Film: "There are so many amazing women filmmakers. A newcomer who recently blew my mind is Marielle Heller with her first feature, Diary of a Teenage Girl. Forced to cherry-pick some under-the-radar up-and-comers, I'd start with Amy Seimetz, who directed the fever dream, Sun Don't Shine; Rebecca Johnson, with her powerful U.K. film, Honeytrap; Megan Griffiths, a Seattle director and producer with consistently excellent work (Off Hours, Eden, Lucky Them); Martha Stephens, who surprised with her evolution from the low-key Passenger Pigeons to the highly entertaining Land Ho; Leigh Janiak, choosing to work, and succeeding, in genre (see: Honeymoon); Hannah Fidell with her searing A Teacher followed by the very fresh 6 Years; and Sarah-Violet Bliss who co-wrote and co-directed the hilarious Fort Tilden."
Kate Hudson, actress: "Sarah Polley is a very good director. She is incredibly smart and made a great film."
Geoffrey Fletcher, writer and director: "Kelly Reichardt, she did movies with Michelle Williams. I think she's brilliant. Jane Campion — of course, I know she's been recognized, but she's still brilliant, and I'd love to see more from her."
Mynette Louie, president of Gamechanger Films: "First, I want to recommend all of the directors Gamechanger has worked with so far: Martha Stephens, Jamie Babbit, Karyn Kusama, So Yong Kim, and Sarah Adina Smith. There are so many other talented female directors, it's hard to choose just a few, but here are some feature directors off the top of my head that I think deserve more attention: Cherien Dabis, Josephine Decker, Hannah Fidell, Megan Griffiths, Eliza Hittman, Liza Johnson, Jen McGowan, Lucy Mulloy, Laurel Nakadate, and Dee Rees. Great short filmmakers currently making the transition to features include Frances Bodomo, Christina Choe, and Lauren Wolkstein. And among my favorite established directors are Andrea Arnold, Sofia Coppola, Nicole Holofcener, Sarah Polley, and Agnès Varda."
Sebastian Arcelus, actor: "I'm excited that Robin Wright is directing more episodes of House of Cards this year, so my friends down there are getting to enjoy her. She's a brilliant actress and director. She's just as elegant and as composed and smart as they come. Even just to be in a room with her was lovely, but with her in charge, I think those folks are in the best of hands. And I look forward to the day when Téa Leoni actually directs some episodes of Madam Secretary, because she is just smart as a whip. She has this amazing quality of being utterly in charge, and she's also at the same time completely personable. She's always thinking, she's always sort of maneuvering, always sort of setting the tone for all of us. I think she knows that show and that character, and all of us, inside-out, and I think she'd be brilliant. I hope that one day she does it."
Crystal Moselle, director: "Andrea Arnold, for sure, because she tells real stories about real female people. Personally, being a female, and enjoying films across the spectrum of all genres, I like to see things where I think, 'Oh my god, I can relate to that.' Even if it's something as crazy as a young girl living in council flats or falling in love with a gypsy — obviously, that's not my everyday life, but I can relate to the story that Andrea Arnold is telling. It's real."
Sarah Paulson, actress: "I personally love Mimi Leder. She's incredible. She directed Deep Impact and Pay It Forward and was a huge director on ER in the '90s. I worked with her on Luck for HBO and I think she is an incredible talent. And I'd like to see Jodie Foster make more movies. Little Man Tate was a beautiful movie."
John Cooper, director of the Sundance Film Festival: "I'm a film-festival director so the Hollywood powers-that-be don't let me hire people to make movies (probably for very good reason), but if they did, I would go to: Miranda July for her instincts and uniqueness; Lisa Cholodenko for her understanding of complicated characters; Liz Garbus for the way she brings story to documentary; Dee Rees for her honest audacity; and Lena Dunham for her fresh approach and unfiltered curiosity. Then there's Amy Schumer, who I'd hire to do pretty much anything just so we could be friends."
I want to add @neemrick , @JulieDash , @EuzhanPalcy & @TinaMabry @MyMamaKnows #100WomenDirectors https://t.co/BNCSUahmFD

— Lizy (@lizcriolla) November 3, 2015
@vulture completely absurd @LuciaAniello isn't on this list??

— Abbi Jacobson (@abbijacobson) November 2, 2015
@vulture Melanie Laurent, Clio Barnard, Agnes Jaoui, Noemie Lvovsky, Jennifer Peedom, @sallyelhosaini #100WomenDirectors

— Richard Leathem (@dickiegee) November 3, 2015
@vulture @LoreneScafaria! #100WomenDirectors

— interim banana (@galifianapkins) November 2, 2015
@TheFreedomSuite @kylebuchanan I tweeted these names earlier: Maria Agui Carter, Cristina Ibarra, Aurora Guerrero. There are more, too.

— Aura Bogado (@aurabogado) November 3, 2015
A dozen GREAT TV-centric woman directors for a @vulture followup: Anna Foerster, Kari Skogland, Helen Shaver, Daisy von Scherler Mayer (1/3)

— Daniel Fienberg (@TheFienPrint) November 2, 2015
More AWESOME TV-centric female directors for Vulture: Christine Moore, Ami Canaan Mann, Sally Wainwright, Coky Giedroyc (3/3)

— Daniel Fienberg (@TheFienPrint) November 2, 2015
@vulture Lena Dunham. #100WomenDirectors

— Jason Mittell (@jmittell) November 2, 2015
@vulture Actually, you forgot two incredibly talented women. @rosemcgowan and @amandatapping ! #100WomenDirectors

— Demelza (@angst_bandit) November 2, 2015
Ever #loyal. #ThankYou ma. Wish @kylebuchanan culled 200 names for #100WomenDirectors-It would've blown Execs minds. https://t.co/2mIHJYcYZw

— Victoria Mahoney ️ (@VictoriaMahoney) November 3, 2015