Kris Jenner Had a Great Gatsby–Themed Birthday, So We Captioned the Instagrams with Gatsby Quotes
If you have a <em>Gatsby</em>-themed party, you're just asking us to bring F. Scott into the mix.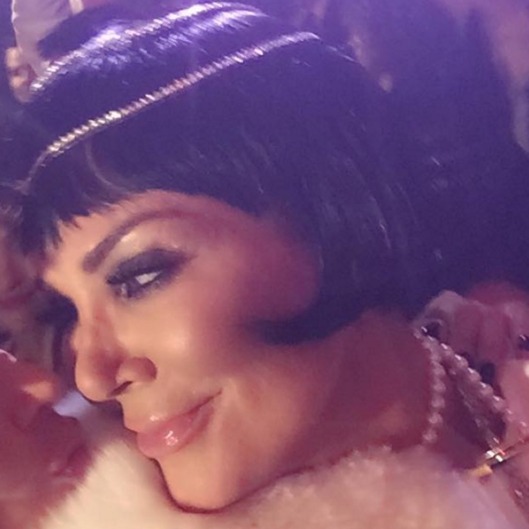 In honor of momager Kris Jenner's 60th birthday, the Kardashian-Jenner clan threw together a cheap, little, rumored-to-cost $2 million gathering that just happened to feature fireworks. In what we can only assume was a commentary on America's current state of economic inequality, the party was Great Gatsby–themed. Sequins, flapper dresses, and mobster outfits abounded.
Like Nick Carraway surveying the aftermath of yet another West Egg bonanza, we've decided that the best way to tackle this story is to try to capture the extravagance with the feeble mechanism of the written word. So here are a few of the night's Instagrams, accompanied by the Gatsby quote that best describes the moment:
"'Ah,' she cried, 'you look so cool.'

Their eyes met, and they stared together at each other, alone in space. With an effort she glanced down at the table.

'You always look so cool,' she repeated."
__________________________
"I wasn't actually in love, but I felt a sort of tender curiosity."
__________________________
"There are only the pursued, the pursuing, the busy and the tired."
__________________________
"And I like large parties. They're so intimate. At small parties there isn't any privacy."
__________________________
"I was within and without. Simultaneously enchanted and repelled by the inexhaustible variety of life."
__________________________
"He smiled understandingly — much more than understandingly. It was one of those rare smiles with a quality of eternal reassurance in it, that you may come across four or five times in life. It faced — or seemed to face — the whole eternal world for an instant, and then concentrated on you with an irresistible prejudice in your favor. It understood you just as far as you wanted to be understood, believed in you as you would like to believe in yourself, and assured you that it had precisely the impression of you that, at your best, you hoped to convey."
__________________________
"It takes two to make an accident."
__________________________
"In his blue gardens men and girls came and went like moths among the whisperings and the champagne and the stars."
__________________________
"Everyone suspects himself of at least one of the cardinal virtues, and this is mine: I am one of the few honest people that I have ever known."
__________________________
"All I kept thinking about, over and over, 'You can't live forever; you can't live forever.'"
__________________________
"So we beat on, boats against the current, borne back ceaselessly into the past."