Marco Rubio Is Waiting on Views From the 6, Just Like Everyone Else
Drizzy for president.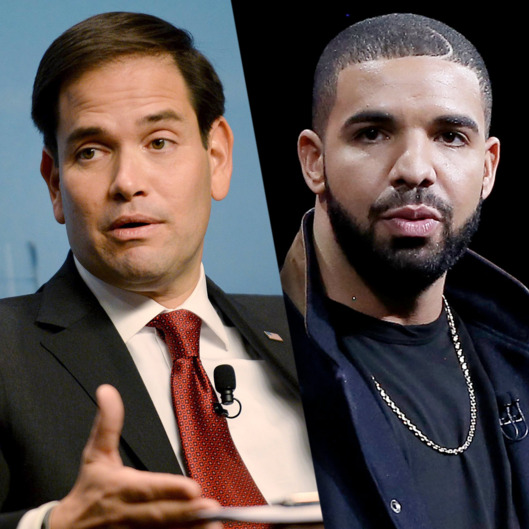 Bernie Sanders and Killer Mike may have shared fried chicken and yams in Georgia this week, but GOP presidential hopeful Marco Rubio is clearly seeking approval from an even bigger rapper: Drake. In this week's New Yorker, the 44-year-old junior senator from Florida discusses his newfound admiration of rap and hip-hop of the 21st century, specifically Drizzy and fellow Canadian upstart the Weeknd. "It's real genius, and it's a 21st-century ability to take music and use it in a way that motivates people. Some of it is blended with other sounds that are sampled from recordings that others have had in the past, and you see traditional artists being brought in and their voices used in an electronic soundtrack," Rubio told CNN before crediting Drake and the Weeknd as two artists he's been listening to lately who are changing the game.
Osnos points out that Rubio, you may remember, used to hype his love of '90s-era hip-hop, like West Coast legend Tupac Shakur. Perhaps all those "Hotline Bling" memes changed his mind about which rappers he should be name-checking on the campaign trail. (The profile is titled "The Opportunist," by the way.) But really, you can't blame him, though. It feels like every presidential candidate in the election this year has, should have, or wants a favorite rapper to co-sign or stump. Ben Carson has Aspiring Mogul, the only pro-life, conservative rapper possibly ever. Sanders has Killer Mike to deliver rousing intros. Rubio has his flavor of the week. Hillary Clinton has Waka Flocka Flame, Ja Rule, Snoop, 50 Cent, A$AP Rocky, Timbaland, Ne-Yo, Ice-T, Young Jeezy, and Pharrell Williams. Donald Trump has ... well, as the only presidential aspirant with his own clothing line, he's pretty much already a rapper himself.