13 Movies to See (or Not) This Thanksgiving
As recommended by Vulture's critics.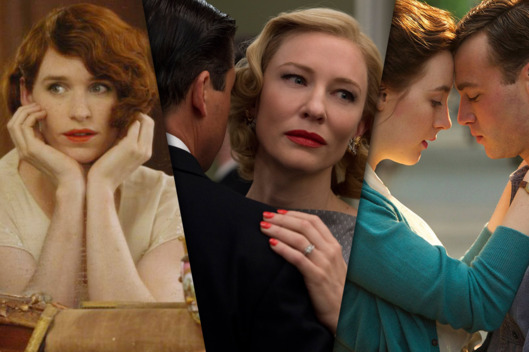 There will inevitably come a point during the Thanksgiving holiday when, despite the love you have for your family, you'll just need some time to yourself. So why not spend it in the comfort of a cool, dark movie theater or on a chaise lounge with your laptop? (You could theoretically include the whole family, whom you really do love, in this plan, though the chaise may get crowded.) Anticipating your needs, we have compiled a list of view-worthy films that are currently in cinemas across the country or available with VOD. (For older movies, be sure to check out the list of movies about to leave Netflix on December 1.) Grab some lukewarm turkey leftovers and enjoy.
Brooklyn
Leading lady Saoirse Ronan has received a considerable amount of praise for her portrayal of a 1950s Irish immigrant in the coming-of-age drama. "The 21-year-old actress brings something unusual to every role: a combination of plainness and mysticism," David Edelstein wrote. "Her blue-gray eyes give her a head start in the mysticism department; she can speak in low, gently inflected tones while still spooking the hell out of you. The plainness is in her pallor, and in an acting style so free of ornamentation that you wonder how she's making you feel exactly what her character feels, see exactly what her character sees."

Carol
The romantic lesbian drama is generating a healthy amount of Oscar buzz, especially Cate Blancett in the titular role. "Haynes has calibrated the film so precisely to Blanchett's talents that he couldn't have rendered her better with animation," Edelstein wrote. "The key to her performance is its play of heavy and quick, regal and furtive." With Rooney Mara giving a more subdued and "mesmerized" supporting performance, "the emotions of Carol are more compressed, distilled into small gestures, furtive looks, the play of light over fabrics, the cooling and heating frequencies of color."
Spectre
With Daniel Craig officially exiting the Bond franchise, Edelstein wrote that Spectre "makes a satisfying final chapter to the four-film saga of Daniel Craig's 007, even if that saga turns out to be less than the sum of its parts." The resulting narrative "is fun, even if it's a mishmash, leaving you shaken, not stirred."

The Hunger Games: Mockingjay — Part 2
The final film in the the postapocalyptic saga will inevitably send teens and young adults into mourning mode, but Jennifer Lawrence's performance, mixed with the bleak and savage depictions of politics and war, will also hold the attention of adults. Edelstein wrote: "I'm not slighting Mockingjay — Part 2 when I say that it ends less with a bang than a whimper ... I wish every war movie ended on a note of loss, and maybe with more female writer-directors on the horizon (excluding Kathryn Bigelow, who gives men penis envy), more war movies will. In the meantime, this is the rare superhero saga in which the hero isn't her true self until she can shed her costume and live in a world that has no need of symbols."

Trumbo
Although the Bryan Cranston–led Trumbo strikes an odd balance between being "musty and awkward" and "irreverent and funny," Bilge Ebiri wrote that "the facile politics takes something of a backseat, and instead we get a charged, vibrant spoof of Hollywood wheeling and dealing — funny, fast, and engaging." The film may no longer be Oscar bait, but "it's an Important movie, about an Important subject, and real Important historical events."

Goodnight Mommy
The Austrian psychological horror film has quickly garnered a big fan base as a result of its "tense, inordinately disturbing" narrative about a mother who returns home to her children after undergoing facial cosmetic surgery (but who is really under the bandages?). Ebiri wrote: "Some find it an admirable, artful entry into the horror genre, while others consider it manipulative torture porn ... Still, I couldn't help but sense a kind of muted, helpless compassion behind all that cruelty – more tragic than sadistic."

Mustang
The coming-of-age melodrama, which revolves around five sisters living in a remote village with their grandmother and uncle, is a triumph for Turkish cinema. "The broad outlines of this story aren't particularly new. Turkish cinema is filled with female characters who long to escape unwanted arranged marriages, so much so that it's become cliché even as parody at this point," Ebiri wrote. "But Mustang breathes new life into the old trope by reconnecting it with the elemental horror that drives it. These aren't just body-snatchers; they take your soul, too."

The Danish Girl
Starring Eddie Redmayne and Alicia Vikander, The Danish Girl tells the story of Lili Elbe, a Copenhagen painter in the 1920s who was one of the first known people to undergo sex-reassignment surgery. Critics have been sharply divided, and Edelstein wrote that "the kindest thing to be said about the high-toned transgender weeper The Danish Girl is that by the time it ends it can serve as a decent liberal corrective to a century of reactionary demon-possession movies." Although Vikander's acting has been widely praised and generating much Oscar buzz, it appears director Tom Hooper is a "master of spiritual kitsch" who is "less drawn to [Elbe's] transformation than to her transfiguration."
Room
The "astonishing" Room, Edelstein wrote, "transmutes a lurid, true-crime situation into a fairy tale in which fairy tales are a source of survival," where Brie Larson's "Ma" and her young son, played by Jacob Tremblay, are held captive in a small room by a sexual psychopath. "The evil depicted in Room is hard to fathom, but the good is even more mysterious: the capacity of a child — when guarded by a loving parent — to project warmth onto the coldest, most malevolent environment. We've seen survival stories featuring people on desert islands or at sea, but it's the boy sustained by a room that's the most amazing."

Spotlight
Currently an Oscar front-runner for Best Picture, Spotlight chronicles the true story of a small group of reporters at the Boston Globe who set out to expose a group of pedophile priests in the Catholic church and their network of enablers. Edelstein wrote: "There isn't a drop of blood in Tom McCarthy's Spotlight, the monsters are largely offscreen, and most of the scenes turn on reporters poring over old files and pressing closed-down people to open themselves up. But this tight, relatively low-key, step-by-step procedural has a stronger impact than any horror movie."

Beasts of No Nation
Netflix caused a stir with the Cary Fukunaga–directed, Idris Elba–starring, "nausea-inducing" war drama about child soldiers in West Africa. "Morally urgent to the end, Beasts of No Nation attempts to anticipate post-terrorist lives of boys who have committed unspeakable acts — acts that would be impossible for any human being with a conscience to repress," Edelstein wrote. "One source of hope: Fukunaga's ability to transform a life of blind, murderous obedience into a work of art, something fathomable."

The Martian
"I can't imagine anyone not liking this one," Edelstein simply wrote about the sci-fi drama, which has Matt Damon leading a formidable cast as a botanist trapped on Mars after a violent storm in the year 2035. "The Martian is shot, designed, computer-generated, and scripted on a level that makes most films of its ilk look slipshod ... As Star Trek has inspired generations of astronauts, astrophysicists, and insufferable Comic-Communists, so might The Martian move kids to study science, math, and even botany."
Bridge of Spies
When you have Steven Spielberg and Tom Hanks collaborate, it's bound to be good, but how good is it? Unsurprisingly, the historical drama, based on the 1960 U-2 incident, is very good indeed. "With his sober but stirring Cold War suspense film Bridge of Spies, Steven Spielberg continues his creative evolution from fatherless child to nervous father wondering (absent role models) if he's doing the right thing in the right way," Edelstein wrote. "Spielberg evokes that free-floating malevolence superbly."