Michael Shannon's Jaunty Christmas Sweater: Terrifying or Adorable?
At <em>The Night Before</em> premiere.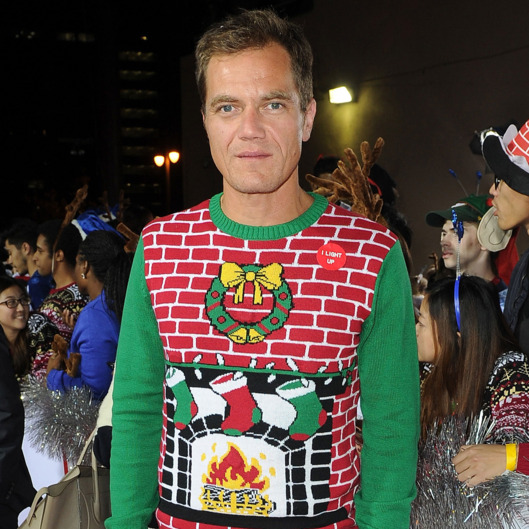 When your facial expression is genetically preset to "unblinking stare while throwing a hatchet 100 feet into another man's head," it's probably hard to mix up your look for special occasions. Michael Shannon knows what I'm talking about! The Boardwalk Empire actor had some fun at The Night Before premiere, but does a jaunty sweater help soften him up at all? Let's take a look ...
Now, from this angle, Shannon still looks like the face you see through your picture window right before the crimes of your past come back to tear your world apart. (Also, in this scenario, it's Christmas.) But maybe if we just peep it from another angle …
Lady, get out of there! Oh, that's just Shannon's wife, Kate Arrington. Ha ha, that's fun. This one definitely makes you feel like you'd have a warm, wonderful time at Michael Shannon's holiday party, though. At least until he makes eye contact with you behind everyone's back and slowly draws his thumb across his throat. Aw, but that's just his way.