Transparent's Season-2 Premiere Will Debut a Week Early — in Other Words, Tonight
Revisit the Pfeffermans, starting Monday, November 30.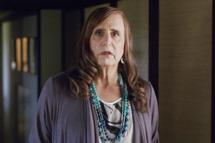 Come and knock on the Pfeffermans' door, they've been waiting for you. Though the second season of Transparent will not bow on Amazon Prime until December 11 (a week later than originally planned), creator Jill Soloway excitedly tweeted the news that the first episode will be available tonight, November 30, at 8 p.m. EST (5 p.m. PST), exclusively on Amazon Prime.