What Exactly Makes Adele's Voice So 'Once in a Generation' Special?
We break down how Adele got the whole world under her spell.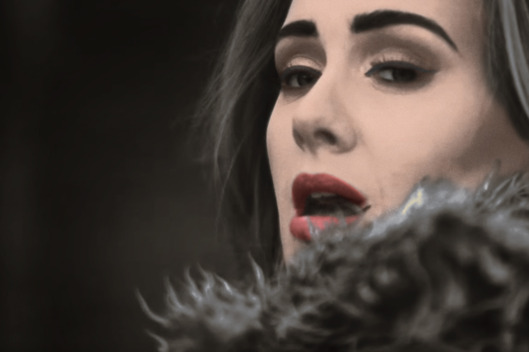 In 2015, there may not be a voice more precious to the music industry than Adele's. "This is an artist who comes around once every generation," iHeartMedia president John Sykes recently told Bloomberg of this growing anomaly. "Etta James, Barbra Streisand, Adele: Three artists who shattered records in their own time and didn't look or sound like anyone else in their time." In just over three days, Adele has sold 2,433,000 copies of her third album, 25, breaking 'N Sync's 15-year-old record of 2,416,000 albums in one week. She could sell closer to 3 million by the time the Billboard 200 album chart turns over this weekend.

Adele has referred to what happened to her career post-21 as a "phenomenon," a magnitude of success she can't conceive of replicating in her lifetime — and something few others ever have or will. She's there in good company alongside the likes of Streisand, Whitney Houston, and Celine Dion, three women who've respectively sold millions (and millions and millions) en route to becoming the defining pop voices of their eras. Now, around the same age when most of these icons' careers reached the stratosphere, Adele is in the position to become the next great legacy artist — and she's done it by following their precedent to a T. Save for her underloved 2008 debut, Adele's second and third albums have each been categorized as marquee albums, the kind of career-defining statements — no matter which big-name writers and producers she's invited along for the ride — where her powerhouse vocal instrument remains the centerpiece. From "Hometown Glory" through "Hello," one fact has been difficult to argue about Adele: Her voice is timeless, even if it's not technically the greatest. (Something to keep in mind: Mariah Carey, Ariana Grande, and Bruno Mars all have wider vocal ranges than Adele.)
Vulture reached out to CeCe Sammy — Britain's leading vocal coach, who has sung backup for Diana Ross and served as a consultant on America's Got Talent, American Idol, and X Factor — to get to the root of what specifically makes Adele's voice so universally appealing and, technically speaking, special.
She has an athletic voice.
As a student of song, Adele did her homework early, studying the greats like Ella Fitzgerald and Etta James after falling first for Lauryn Hill and Gabrielle. "I was like, oh, right, some people have proper longevity and are legends," she told The Telegraph seven years ago. And as she's likely still learning, it takes more stamina than most realize to become one. "Sports players have that continual training, drill after drill, they're not just playing the game. It's really important for singers with her huge range to see themselves as sports players, where they have to go through each section of the song," Sammy says. "Her voice is one of the few voices that we've got worldwide where she's got that huge range that is incredible. I see so much that Adele can do with her voice, because it's like a horse that is really fast and controlled."

She's technically untrained.
Though Adele attended the famed BRIT School for Performing Arts and Technology (whose alumni also includes Amy Winehouse), she considers herself mostly self-taught. "I don't have lessons, I probably don't have a great technique," she recently told Zane Lowe. "Sometimes I feel like I'm singing from my throat and not from my stomach." Sammy agrees, noting Adele's difficulty, at times, building a "bridge" (or transition) between the low, middle, and high sections of her songs when performing. But that raw talent, she says, is also what makes her voice so attractive. "Let's take it back to someone like Anita Baker: She's fantastic, but she was always slightly under the note when she performed live, if you really listened. But the emotion was there. Adele also fuses emotion into her performances. If you close your eyes and listen to her, you note that emotion. Whether you like her sound or her music, she, for me, is a singer — and everyone can tell that." Adele also a possesses a gift for tone, a vocal strength Sammy doesn't believe can be taught like technique. "'Hello' is a huge range that shows off every dynamic of her voice," she explains. "You'll hear the low notes, but she'll breathe — it's very like this [starts whispering with a rasp], and then it's cool, pure note coming through."

Her vocal cords have been tested.
In late 2011, Adele experienced vocal hemorrhaging that led to a canceled tour and required surgery. She returned to the stage only months later, at the Grammys, expecting the worst. "I don't want to open my mouth and people be like, 'Oh, her voice is ruined,'" she told Zane Lowe of that night. "[The Grammys] wasn't the greatest performance, but I opened my mouth a cappella and something came out, so it was a pure relief. And it did take a while for [my voice] to get its character back." Adele's vocal-cord issues have become common for her contemporaries — "Singers aren't built how they were before, and they're being thrown in out of nowhere to do this touring," the singer told Lowe — and Sammy views it as a more of a hurdle than a setback. "Her voice is cleaner [after surgery], but if she doesn't train and just leaves it, the problem will come back again. Live has got to be different whereby you're preserving your voice," she says. "Because Adele is so great in the voice that she's got, it means it'll take longer for her to warm up her voice. Not for a bad reason, it's just that she's got more notes to warm up."

She's still developing as a singer.
Post-surgery, Adele told Rolling Stone that she'd added four notes to her upper range, a new weapon in her vocal arsenal she flaunts on 25's standout track, "All I Ask," with a risky key change that Bruno Mars used to challenge her to hit new highs. Sammy notices a distinct showing of breath control on Adele's new album, too, particularly on songs like "River Lea," where she's "got to use the beats that are underneath in the track" instead of soaring above the production. And then there's "Send My Love (To Your New Lover)," on which she experiments with timing and rhythm to "push a particular word, consonant, or vowel," namely on the song's cheeky "send my love to your new luh-uh-ver" syllable stretching. It's a similar vocal trick to the one she played on 19's "Chasing Pavements" ("This ain't lust, I-e-e-e-e-e knooow," she sings). And Sammy's confident there's more to Adele's vocal ability that we (and maybe even Adele, too) have yet to discover. "Her voice has developed, as all our voices develop and change, and for me it's a case of continuing to feel comfortable and daring enough to show other aspects of her voice," she says. "This is only the beginning of what we've heard from her."