How Do You Cast a Young Han Solo? What Was the Original Episode VII Story? We Asked Star Wars Writer Lawrence Kasdan
He answered our burning questions about <i>Star Wars: The Force Awakens</i>.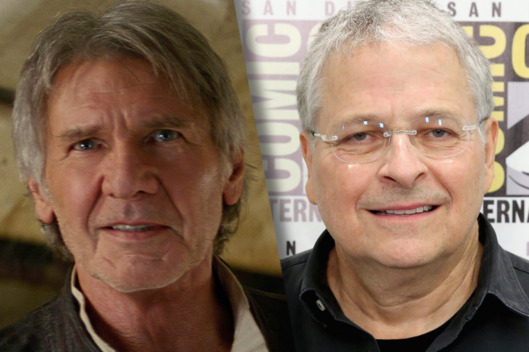 When we caught up with Star Wars: The Force Awakens co-writer Lawrence Kasdan last week, the Oscar-nominated veteran scribe spilled a secret about one of the film's biggest villains: Captain Phasma, played by Game of Thrones star Gwendoline Christie, was originally written as a man! Emboldened by Kasdan's truth-telling, we asked him to answer several other burning questions about the franchise.
How do you cast a young Han Solo?
Kasdan has already moved on from The Force Awakens and is busy scripting a Star Wars spinoff for summer 2018 that would follow the adventures of a young Han Solo. Rumor has it Lucasfilm and directors Phil Lord and Chris Miller have looked at 2,500 actors for the role, and when I asked Kasdan whether it was an impossible feat for a young actor to fill Harrison Ford's vest, he even hit me up for names. "Who would you put in it?" Kasdan asked. "It's a really tough challenge." I suggested that if Hollywood could boast of even a single young man with Harrison Ford's unique mix of acting chops, sensitivity, and rough-hewn masculine appeal, that up-and-comer would have been snapped up by studios already. "Unless he was 23 and had just gotten to town," Kasdan reasoned.
According to reports, actors as diverse as Dave Franco and Rami Malek have read for the role, and Kasdan says they're not looking for Ford's physical duplicate: "You want someone who isn't going to be exactly like Harrison, you want someone who suggests him," he said. "It's like when you adapt a book, and I've adapted a couple: You don't want to adapt it word for word, you want the essence to come through. With Harrison, though, it's not easy to find someone with those kinds of qualities. He's like Spencer Tracy, and what does a young Spencer Tracy look like?"
What did George Lucas want Episode VII to be about?
Lucas had originally sketched out plot ideas for the next three Star Wars movies — a "sequel trilogy" that would follow both his prequels and the original Star Wars trilogy — but after Kathleen Kennedy took over Lucasfilm, the company decided to pursue its own path for Episode VII. So what was Lucas's rejected story line about? "I don't honestly know, and I'm telling you the truth," said Kasdan, who only began co-writing The Force Awakens with J.J. Abrams after the original writer, Little Miss Sunshine scribe Michael Arndt, was let go. "When I first went to meet with them, George had some shortly written, brief ideas for a lot of movies, but [Episode VII] was not in that group, because they had already hired Michael Arndt to write that movie. So I was not given that movie at first, and I don't know what the original idea was, although I think J.J. maybe heard it at some point. But he came in later, too."
So while Lucas didn't share his Episode VII story with Kasdan, he did mention the Han Solo spinoff that Kasdan would eventually call dibs on, as well as a host of other side stories that Lucasfilm is currently developing. "George said, 'We've come up with these ideas, but I won't be around to do them. I'm done, I'm retiring. Kathy is taking over the company,'" said Kasdan. "It was like The Godfather: 'Give Michael your trust.' Kathy and I have been friends for 40 years, so that was easy. We had been in more contact than me and George." Kasdan left that pivotal meeting sitting on a well of secrets, but even he had no idea that Disney was about to buy Lucasfilm, one of the most stunning acquisitions of the last decade. "George had not sold it at that point," said Kasdan, who only found out after Disney issued a press release, when a friend he'd met for dinner filled him in on the day's big news. "That happened about two weeks later, and there was not even a whisper of that. I don't think even Kathy knew!"
Is it hard to come up with new Star Wars names?
This isn't Kasdan's first time playing around in a galaxy far, far away: He also scripted The Empire Strikes Back, and has therefore spent several significant moments in his career thinking up Star Wars names that would soon prove to be iconic. So when it came time to christen Force Awakens planets like Jakku or new characters like Kylo Ren and Poe Dameron, who did a better job coming up with those ineffably Lucas-like monikers? "J.J.'s really good at it," said Kasdan with a laugh. "And I think he gets a lot of pleasure out of it! You know, I've named a lot of characters and systems in this saga, and I think he was fresher at it. He did a lot of great ones."
Can you still keep Star Wars secrets in the age of Twitter?
One of the most famous film twists of all time came in 1980's The Empire Strikes Back, when Darth Vader revealed Luke Skywalker's true parentage. 35 years later, would the filmmakers be able to get away with a surprise that massive, since it would likely be spoiled on Twitter as soon as it leaked? "Everything is different, and I don't even think of it so much as Twitter as it is the beast of the internet," said Kasdan. "The big thing is that you used to put out a trailer, and people would only see it if they went to the right movie. Now, you put out a picture and the entire world has it in five minutes! You put out a trailer, and there are 80 million views! A rumor or a spoiler can have 200 million views. That didn't exist in the past."
Still, Kasdan said it didn't influence his scripting, and indeed, there are plenty of Force Awakens surprises still to come ... that is, as long as you didn't dig into a flood of spoiler-heavy images and secrets that were leaked over the past year, allegedly by disgruntled freelancers who'd been laid off last summer when the film temporarily halted production. Knowing how much Abrams values secrecy, I figured that leak must have been awfully painful for the production, but when I asked Kasdan how he himself felt about it, the 66-year-old just shrugged and smiled. "It's incredibly painful in the world of keeping franchise secrets," he said, sanguine. "It's not incredibly painful in the world."