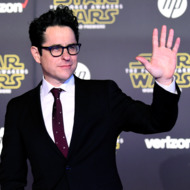 Fresh off a successful reboot of that one big space franchise (no, the other one), J.J. Abrams has gotten the chance to speak candidly about the franchise he sorta messed up (yes, that one). In an interview with Buzzfeed, Abrams admitted that Star Trek Into Darkness wasn't quite as fully baked as he wanted it to be: "I take full responsibility for this," Abrams said. "I was encouraging the writers [Alex Kurtzman, Roberto Orci, and Damon Lindelof] in certain directions, and we were working on the script and putting it together. But by the time we started shooting, and this was literally at the very beginning of the shoot, there were certain things I was unsure of."
Abrams explained that much of his frustration boiled down to the fact that he couldn't pin down the movie's central theme — the first Star Trek had Kirk and Spock go from enemies to friends; the second didn't have the same narrative drive. "Any movie, any story has a fundamental conversation happening during it," Abrams explained. "There's a fundamental argument; there's a central question. And I didn't have it."
Abrams's collaborator, and the Toby from The Office of the internet, Damon Lindelof has already apologized for the way in which Into Darkness handled the introduction of Benedict Cumberbatch's Khan, and Abrams reiterated some of Lindelof's qualms (making him the Jim from The Office of the internet: Just as culpable, but it's fine because he has other stuff going on):
At the end of the day, while I agree with Damon Lindelof that withholding the Khan thing ended up seeming like we were lying to people, I was trying to preserve the fun for the audience, and not just tell them something that the characters don't learn for 45 minutes into the movie, so the audience wouldn't be so ahead of it.
Though, to be clear, Abrams wasn't the one who actively lied about whether Cumberbatch was Khan: "I remember when I read that he basically said, 'He doesn't play Khan,' and I thought, Oh my god, Simon Pegg!"
Fond of quixotic gambits that backfire? Sounds like Simon Pegg is the Dwight from The Office of the internet.