Jerry Seinfeld Nabs President Obama As a Guest on Comedians in Cars Getting Coffee
What will POTUS do next?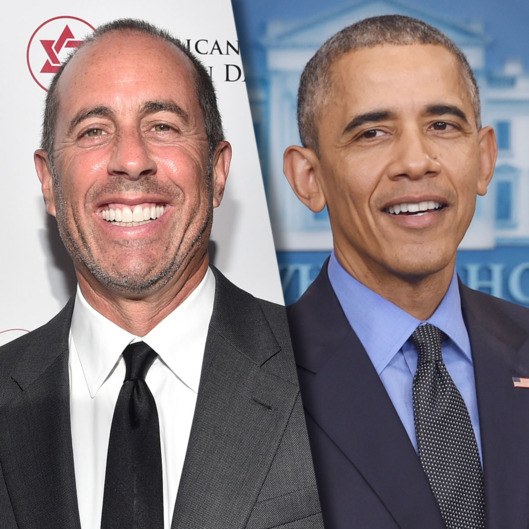 President Obama will be a guest on Jerry Seinfeld's popular web series Comedians in Cars Getting Coffee, the Washington Post reports. The series usually features Seinfeld describing in detail and driving around in vintage cars with various fellow comedians, including Chris Rock, Amy Schumer, Larry David, Sarah Silverman, David Letterman, and Jon Stewart, but he's made an exception to the premise for the president. Obama's comedy credits include appearances on Zach Galifianakis's public-access parody Between Two Ferns, Marc Maron's "WTF" podcast (during which Obama named Seinfeld as his favorite comedian, leading the "CICGC" producers to reach out), his monologues at various White House correspondents dinners, and that one time he told us about those folks who "wanna pop off" about Syria. 
According to the Post, Seinfeld and Obama take turns driving a 1963 Corvette Stingray in circles on the South Lawn of the White House, then chill over coffee in a staff dining room in the basement to talk about things that don't involve health care or gun control. "He's done some really good work as a monologist at those correspondents dinners — that's how he qualifies to be on the show," Seinfeld told the Post. In a statement, the White House said, "This was an opportunity to pull back the curtain for Americans on life in the White House. The president and Jerry had a unique, candid conversation that focused largely on the lighter side of the presidency." 
The show will be available on December 30 and also features scenes filmed in the map, diplomatic, and China rooms at the White House before coffee. "It was out-of-body for me," Seinfeld continued. "I'm not a guy who likes honor. In fact, I hate any kind of honoring. That I get to be a comedian — that's the honor. But this was an honor: that [Obama] was okay with me, that he trusted me to do some comedy with him in the real White House."